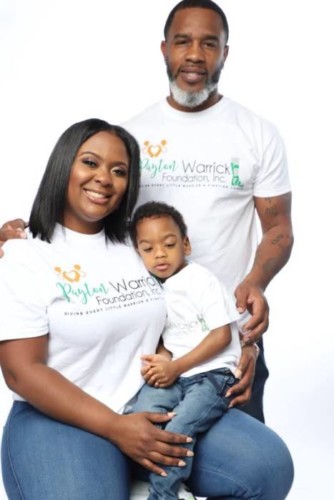 Florida State legend and former NFL Wide Receiver Peter Warrick and his wife Tabitha are set to host their inaugural Celebrity Bowling Tournament on Saturday, Feb. 8. The star-studded event is open to the public and is a unique opportunity to meet numerous legends in a friendly competition.
Looking to bring awareness to Cerebral Palsy, the bowling event will help raise funds for future research. The Payton Warrick Foundation, Inc., a non-profit organization that was created to educate and support individuals and families living with Cerebral Palsy, severe hearing loss, and other special needs (Peter & Tabith's 2-year old was born with multiple conditions).
The goal of Payton Warrick Foundation is to ensure that every child born with a disability or special need and every individual continuing to live with one, has access to opportunities to grow, progress, and advance; through therapy, education, and necessary resources such as transportation, therapy.
On Saturday February 8th, Peter Warrick (FSU National Championship Game MVP (2000). 3X All-ACC. Six-year NFL career), Champ Bailey (Pro Football Hall of Famer), Eric Berry (5X Pro Bowler who can back from Hodgkin's lymphoma in mid-career), Warren Sapp (Pro Football Hall of Famer), Dominique Rodgers Cromartie – (Current NFL player (2X Pro Bowler) and more will be in the building.
Our mission is to bring awareness and support through scholarships and grants that will assist with therapy services, counseling for families, and other resources for the purpose of improving the quality of life. Our foundation will provide educational aids in the form of seminars, workshops, and training sessions designed to support individuals and families with information on current issues pertinent to those living with special needs, and to bring awareness to the community.
Payton Warrick was born February 12, 2016 weighing 2lbs and 2ounces. He remained in the NICU for 2 months and 3 days. Payton was diagnosed with Severe to Profound Hearing Loss. In addition to his Speech Therapy, he was also getting Physical Therapy and Occupational Therapy, because he was not hitting his milestones. In 2017, Payton was diagnosed with Cerebral Palsy. Our life had now become centered around daily therapy visits, no sleep, and a routine we had never imagined for ourselves.
The Warrick's met so many other families at the early intervention program in Georgia and empathized with them. After seeing their struggles, tears, strength, and determination to never give up. They saw the struggle of trying to have a career, keep up with ongoing doctors' appointments, therapy sessions, out of pocket costs, transportation, and just having a life of their own. They saw it, because it was their story.
The event takes place on Saturday February 8th at Bowlmor Atlanta, 2175 Savoy Drive, Atlanta. Tickets available for purchase online at www.PaytonWarrickFoundation.com. 
Follow @eldorado2452 on Twitter and Instagram for all your sports news.
© 2020, Eldorado2452. All rights reserved.