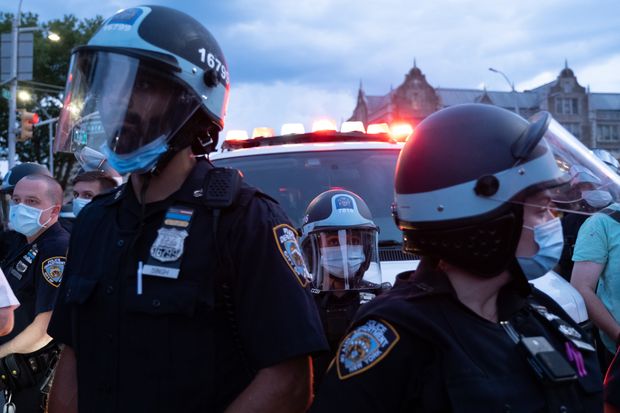 City Councilman Justin Brannan is requiring a full examination concerning the episode. 
Video has surfaced of an NYPD officer tasing and capturing a Black Lives Matter protester in Brooklyn on Sunday (July 12). 
The incident took place during clashing anti-racist and pro-cop rallies. In the video, the cop pushes the protester, who is a Black man, while another officer attacks him. The protester then yells out, "Y'all see this?" as he is standing on the sidewalk. An officer then tases him and he falls to the ground. Four officers then arrest the man as he yells out, "You're breaking my arm!"
City Councilman Justin Brannan retweeted the video of the occurrence and stated, "I have reached out to @NYCMayor @NYPDnews and have asked for a full investigation." Earlier he tweeted that he was "disturbed" by the violence displayed in the video and would be meeting with the 68th Precinct on Monday (July 13).
As indicated by the New York Post, an NYPD representative said the office is "mindful of the video" and "it is under audit." Police guarantee the activist, who is as yet anticipating charges, tossed a head protector at one of the officers only minutes before the surfaced cellphone footage starts. 
Simply a month ago, an NYPD official was captured and charged after he utilized a restricted chokehold to detain Ricky Bellevue, a Black man, in Queens. Officer David Afanador, who has been suspended without pay, is presently dealing with indictments of strangulation and endeavored strangulation. 
Lori Zeno, Bellevue's attorney, said Afanador should be fired and prosecuted. "It is important that we keep holding police officers accountable for their actions," she said in a statement. "The officer involved here used a chokehold to strangle my client until he was unconscious because according to the police officer, he was being disorderly."
"He is the one who committed a crime in this circumstance," the lawyer continued. "We will not stop until the people of Far Rockaway can feel safe as they travel through their own neighborhood. They should not fear the very people who are sworn to protect them."
Article for HIPHOPSINCE1987 written by Jonathan P-Wright aka The Millennial General
© 2020, Seth Barmash. All rights reserved.