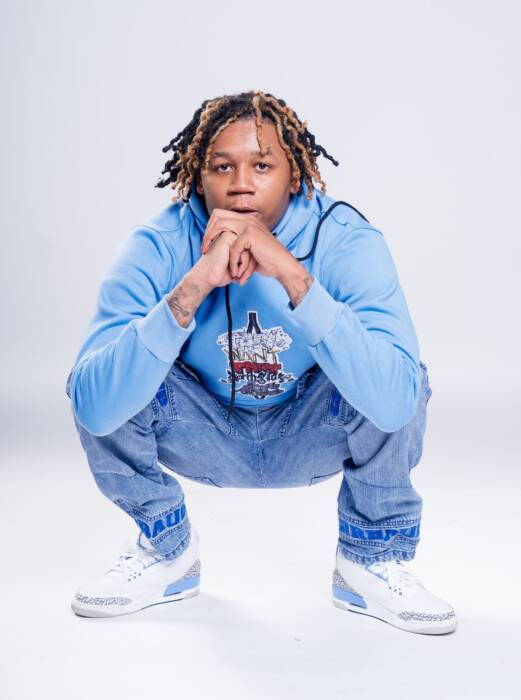 Listen to "King James" (Single): https://biglink.to/kingjames
Taylor Gang Ent. is pleased to announce the signing of Pittsburgh standout Fedd The God to its label artist roster. In addition to this big announcement. Today, Fedd The God releases his debut single 'King James,' produced by Sledgren and Chris Dreamer. 'King James' marks Fedd's first official single as a Taylor Gang artist. "We are extremely excited to bring Fedd into the family and can't wait to see him grow!" said Taylor Gang president Will Dzombak in an official statement. In announcing the signing, TGOD's head honcho Wiz Khalifa added "super pumped for my boy! Gang Gang!"
As a child, Fedd began making music as an escape from the dangers of his Northview Heights neighborhood. His love for the craft would only intensify after the loss of a friend, and fellow rising artist Trillzee. A fixture within 'Steel City' nightlife, the 26-year old rapper earned a reputation for throwing wild parties, Fedd used his platform to play songs and perform all across Pittsburgh. As Fedd's profile grew larger, word started to spread about his music.
The stars would align for Fedd after a fight with a friend of Dzombak's – the event would lead to the two forming a bond. Will would introduce Fedd to TGOD chief Wiz Khalifa – who gave his stamp of approval, welcoming their Northside neighbor into the fold. With the ink dry on his Taylor Gang deal, Fedd shares his debut single 'King James,' describing the single as an "appetizer that will fill you up and leave you wanting more." 'King James' serves as the lead single to Fedd The Godd's forthcoming project The Feddko Zone – Arriving later this summer.
CONNECT WITH FEDD THE GOD
ABOUT TAYLOR GANG
Conceptualized in 2006 and founded in 2011 by award winning rapper Wiz Khalifa, Taylor Gang Ent. has become a hip hop mainstay. The record label, content production, and management company is home to a growing number of talented artists, producers, entrepreneurs, and entertainers such as Juicy J, Ty Dolla $ign, Chevy Woods, Berner, SK8, TM88, Sledgren, Ricky P, and several other up and comers. With a family of artists and fans combined, Taylor Gang pulls in the support and promotion of an army. Thanks to an unrelenting desire to tour and create the best shows possible, Taylor Gang has amassed an active and authentic following. Through this network, brands are given the rare opportunity to reach both the individual fan bases of those within Taylor Gang as well as the die-hard fans of all things Taylor.
Promoting peace, individuality and positivity, Taylor Gang is as much a lifestyle as it is a crew.
© 2020, Seth "Digital Crates" Barmash. All rights reserved.