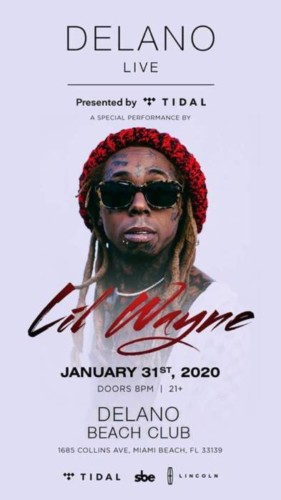 TIDAL has joined forces withs be, the leading international hospitality group for the second installment of the new "Delano Live Presented by TIDAL" concert series. The upcoming event, which was recently announced this morning, will take place next Friday, January 31st, in South Beach, during Super Bowl weekend. Headlining the concert will be none other than Grammy-Award winning rapper, Lil Wayne!
The "Delano Live Presented by TIDAL" concert series, a component of sbe and TIDAL's new strategic partnership, offers an immersive, ongoing live concert series for locals and hotel guests. The series launched with a headlining performance by DJ Khaled during Miami Art Week in December. The collaboration also features numerous entertainment amenities for sbe hotel guests in the US and UK markets.
Tickets, starting at $75 will be on sale here beginning today. Closer to the event date, TIDAL members will have a chance to enter to win tickets.
The concert series is also hosted in collaboration with Lincoln, The Lincoln Motor Company, the official automotive partner of sbe and the Delano Live series. In addition to A-list musical events throughout the year, the collaboration between sbe and TIDAL will provide sbe hotel guests access to TIDAL as an in-room entertainment amenity through a dedicated content channel.
TIDAL curates custom soundtracks at select properties, including those in its SLS Hotel & Residences, Delano, The House of Originals, Mondrian and Hyde Hotel & Residences brands. Lobbies, pools, lounges and restaurants will feature TIDAL's playlists.
Both brands provide exclusive offers and benefits to their respective customers. SBE guests receive a free three-month TIDAL HiFi subscription. TIDAL members staying at SBE properties will receive benefits such as the fourth night free during consecutive stays, complimentary upgrades and late check-outs (pending availability).
© 2020, MariaMyraine. All rights reserved.