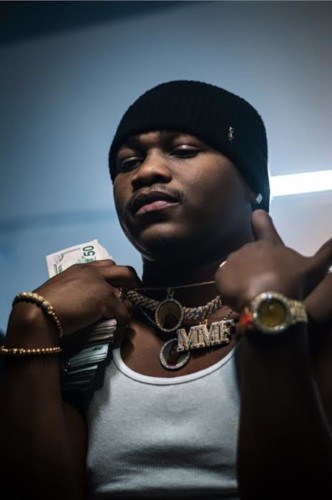 From the streets to the stage Trini MMF has been known as a young DC hustler making waves in the scene. He migrated from Trinidad at age ten, claiming it was very easy to adapt to DC street life because of the things he witnessed as a kid in a third world country. While he was in the streets he enjoyed moving in the shadows to prevent people from knowing his business. From the University of the District of Columbia to Army ROTC at Howard University, all he knew was the hustle.
Not one of your top students in class but brilliant at making money he saw his first $100,000 at age twenty one after dropping out of college but now his goal is to hustle just as hard in the music industry. "It's only been a year where I have taken hip hop music serious, but so far I have had meetings with young thug, became friends with hip hop legend bang em Smurf, and dropped a track with Boosie Badazz cause' I'm not here to play but dominate just like the street. I'm going to put the time into learning the craft of hip hop music to separate me from the rest just like how I have seen thug and boosie do.
These are guys that have came from the same place and struggle as I have so if they could do it then I can too. Failure is part of succeeding, and as long as you don't give up success will find you."
1.) What music did you listen to growing up? 
A lot of Trinidadian soca music, American Hip Hop and Caribbean Dance hall 
2.) How old were you when you father was murdered? How do you believe that shaped your career? 
I was twenty two and it made me angry and music was a way of me releasing that pain and anger.
3.) Who are some artists you'd like to collaborate with in the future? 
Yo Gotti, Gucci Man, Young thug, Fat Trel, Shy Glizzy, Lightshow, 
4.) How are you spending your time in the quarantine? 
Recording a lot of music, learning how to become better with my word play and studying  the hip hop game.
5.) What's next for you? 
Working with a lot of International artist and dropping a mixtape with the two artist on my camp alongside other DMV artist 
© 2020, Eldorado2452. All rights reserved.