TWITTER SHOULDN'T BE THE PLACE FOR DISCUSSING NUCLEAR MATTERS
writer
Diplomats from the United States and Russia took their arms control dispute to social media Friday, arguing over who's to blame for the failure of a key Cold War-era treaty and the role of China in trying to forge a new nuclear pact.
U.S. Special Presidential Envoy for Arms Control Marshall Billingslea shared a Newsweek article on Twitter concerning China's warning to the U.S. not to deploy intermediate-range missiles to the Asia-Pacific region. Such missiles were banned as a result of the 1987 Intermediate-range Nuclear Forces (INF) Treaty between the U.S. and Russia. However, President Donald Trump's administration left the deal in August, alleging Russian violations.
"China should talk to Russia who destroyed the INF Treaty, deploying battalions of medium range 9M729 missiles (they can't reach US). Where are they deployed? Who are they aimed at? Join Vienna talks; get answers on things like this!" tweeted Billingslea.
Shortly after, Russia's First Deputy Permanent Representative to the United Nations Dmitry Polyanskiy hit back in a reply to Billingslea, who also serves as Assistant Treasury Secretary for Terrorist Financing, and is the current nominee for Under Secretary of State for Arms Control and International Security Affairs
"What a nice way of inviting to talks through false claims! We all know it was US, not #Russia who killed #INFTreaty. #China has no illusions about this. Add US Chinese flags stunt at Vienna talks and the impression is that we are dealing with professional cheaters…#ArmsControl," Polyanskiy responded on Twitter.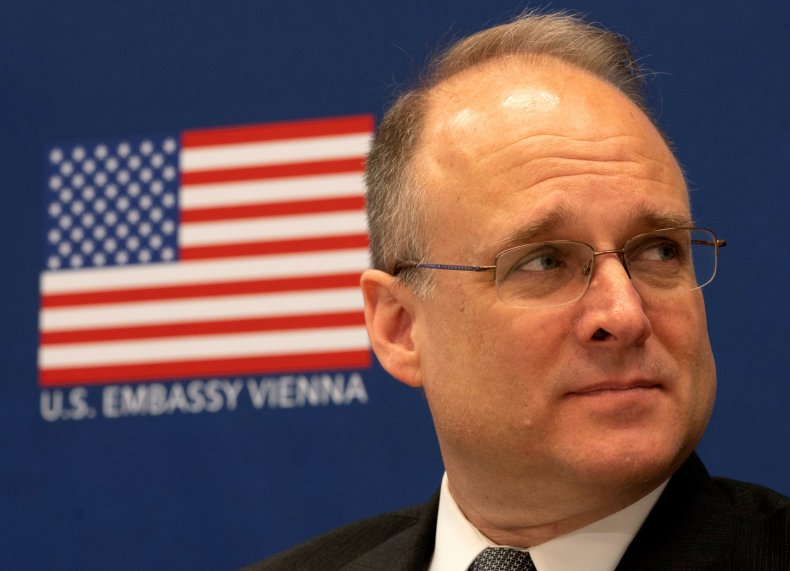 Marshall Billingslea, U.S. special presidential envoy for arms control looks on during a press conference on June 23 in Vienna after the U.S. and Russia met for talks on their last major nuclear weapons agreement. With major differences between the two sides, a failure to compromise could see the end of the last bilateral nuclear treaty between Washington and Moscow.
JOE KLAMAR/AFP/GETTY IMAGES

Polyanskiy referred to an incident Monday in which Billingslea shared a photograph of an empty row of seats at a table bearing Chinese flags, claiming Beijing ditched arms control discussions with Moscow and Washington. "Vienna talks about to start. China is a no-show. Beijing still hiding behind #GreatWallofSecrecy on its crash nuclear build-up, and so many other things. We will proceed with #Russia, notwithstanding," the U.S. diplomat tweeted alongside it.
But Russian newspaper Kommersant reported that same day, citing Russian diplomatic sources, that the Russian side had requested the Chinese flags not be shown and that the U.S. side did so for a photo opportunity before taking them down. The tweet also caught the eye of Chinese officials.
What an odd scene! Displaying Chinese National Flags on a negotiating table without China's consent! Good luck on the extension of the New START! Wonder how LOW you can go?" Fu Cong, director general of the Chinese Foreign Ministry's Department of Arms Control, tweeted in response.
The flags also appeared to display China's yellow star pattern in the wrong place, something Chinese Foreign Ministry spokesperson Zhao Lijian told reporters Tuesday meant U.S. officials should "improve their general knowledge to avoid becoming a laughing stock." He added: "China has on many occasions stated its position on opposing trilateral negotiations of arms control."
Like the INF, the New Strategic Arms Reduction Treaty (START) is a bilateral arrangement between the U.S. and Russia, but the Trump administration has sought Chinese involvement. The INF bans land-launched missiles ranging from 310 to 3,420 miles while New START limits the nuclear arsenals of the two countries. Beijing has repeatedly rejected invitations to join negotiations on either treaty, as it feels Washington and Moscow have special responsibilities owing to the size of their nuclear stockpiles.
China has a far smaller stockpile, but the fast-rising power has set out to develop state-of-the-art, hypersonic and highly-maneuverable weapons and has already established a massive mid-range missile arsenal. China is also free from mutual inspection and verification regimes imposed by New START, especially frustrating the U.S. as geopolitical tensions rise in the Asia-Pacific region.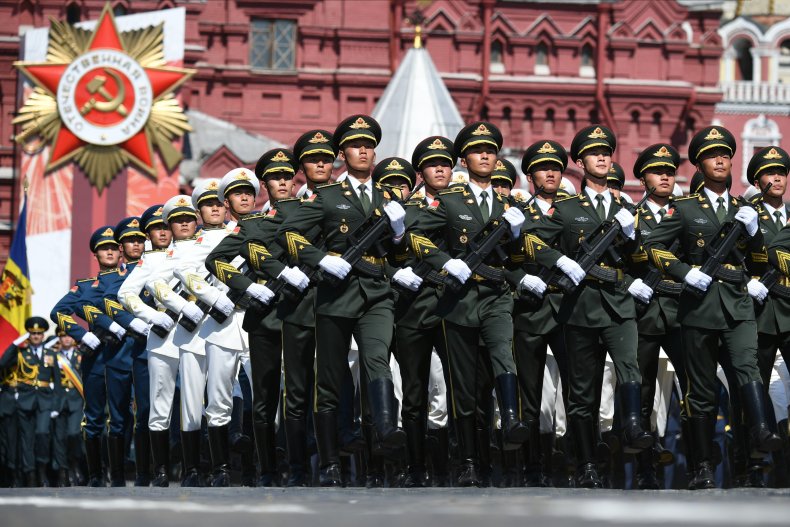 Servicemen of the Chinese military march during a Victory Day military parade in Red Square marking the 75th anniversary of the victory in World War II, on June 24 in Moscow, Russia. Beijing and Moscow have formed an increasingly tight strategic partnership, frustrating Washington.
RAMIL SITDIKOV/HOST PHOTO AGENCY/GETTY IMAGES
Russian President Vladimir Putin has extended an offer to immediately renew New START if Trump agreed, but Trump seeks a new, more comprehensive and multinational deal. As of Friday, Russia and the U.S. appear to still be at great odds, according to Russian Deputy Foreign Minister Sergey Ryabkov.
"We did not limit ourselves to mere relaying of our positions, which both Russian and the U.S. are well aware of. These positions are rather strict in many aspects, poorly combining in a number of fields, incompatible in a whole number of elements, but we worked for a result," Ryabkov told the state-run Tass Russian News Agency. "That this result is beyond our field of view is another matter. But a constructive, calm, business-like approach to these issues, creative in many ways, provides a dose of optimism."
"I hope that, when this work continues, including on the level of expert groups, whose establishment we have negotiated, and later on our level of inter-agency delegations, we will be able to augment this progress, although, I repeat, disagreements are very significant and fundamental in some aspects," he added.
New START is set to expire in February. Its failure would mark the first time in nearly half a century that Washington and Moscow were not bound by any bilateral nuclear arms treaties.
© 2020, Wilde Tuna. All rights reserved.