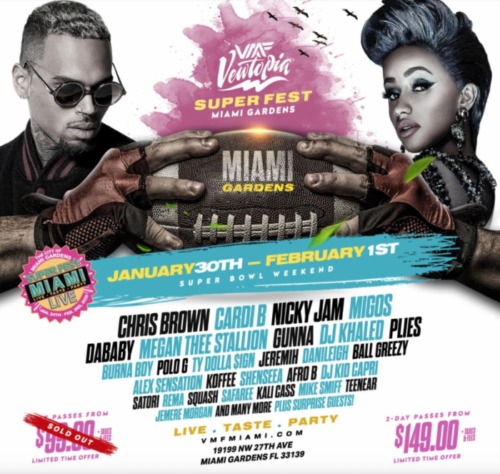 Super Bowl LIV isn't the only attraction in Miami. The VEWTOPIA Music Festival will also be going down on January 30th and February 1st, further fueling the event-packed weekend. Taking place on the grounds of Superfest Miami Live in Miami Gardens, VEWTOPIA will host a superstar lineup that includes the biggest names in wide range of genres – from Hip Hop to Pop, and Latin Music. Artists such as Chris Brown, Cardi B, Migos, DaBaby, Burna Boy, Nicky Jam, Megan Thee Stallion, DJ Khaled and more, will be hitting the stage in the two-day festival.
Festival goers who purchase a ticket to the Festival can also enjoy the family-friendly activities at SuperFest Miami LIVE – from the fan village, to the feature concerts, a family carnival and tons of interactive experiences.
"VIEWLive! has been responsible for some of the country's largest concert experiences, but none are as exciting as this! As a Miami native, having the opportunity to collaborate with Ted Lucas to bring this stellar concert line up to Miami Gardens is a dream come true! Amazing things don't just belong on South Beach, we are honored to bring this dynamic event o the City of Miami Gardens." – Ryan Burker, Founder
Also chiming in on the Festival is SuperFest Miami Live's executive producer and music executive legend, Ted Lucas:
"The beauty of this partnership is that two Miami natives have united to show the world what it is like to live and play in the beautiful city of Miami Gardens. SuperFest is the ultimate experience surrounding the big game. Keeping the community front and center and infusing Miami culture into every aspect, this event will be history in the making for such a prominent area."
Grab your passes today: https://www.vewtopia.com/
© 2020, MariaMyraine. All rights reserved.