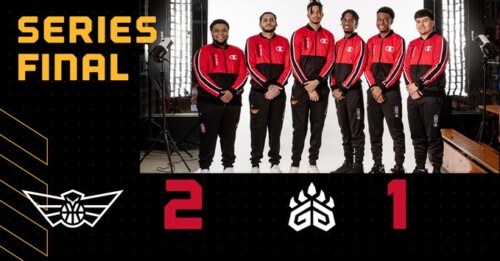 In front of an international viewing audience, Hawks Talon Gaming Club, the official NBA 2K League affiliate of the Atlanta Hawks, beat Grizz Gaming twice in a best-of-three series. As a result, Hawks Talon earned their second victory of the 2020 NBA 2K League regular season. The outcome of each game was 74-63, 54-60 and 75-57.
"Our team showed their resilience in each of our games against Grizz Gaming," Hawks Talon GC's Team Manager and Head Coach Wesley Acuff said. "In this series against KEL's former team, our team rallied behind his composure and leadership, and we are proud of everyone's contributions which helped us come away with a win."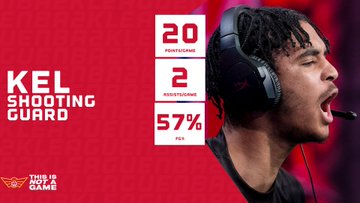 In the first game, Atlanta's own KEL (Mykel Wilson) led the team with a personal season-best 27 points, highlighted by shooting 11-for-14, to go along with three assists and one steal. After playing for Grizz Gaming last season, Hawks Talon drafted KEL in the second round of the 2020 NBA 2K League Draft. Hawks Talon's BP (Michael Diaz-Cruz) finished with 17 points, one rebound and three assists while MRSTYLEZ (Andrew Valle) tied his season-best with 12 points to go along with two steals. LEE (Lee Lamb) contributed with nine points and 12 rebounds and a game-high five blocks while FOLLOWTHEGOD (Kwan Larry Niblack Jr.) also added nine points shooting three-for-three from three-point range and added two rebounds, one assist and one steal.
In the second game, Hawks Talon's BP totaled a team-high 17 points to go along with seven assists and three rebounds. LEE, the team's 2020 first-round pick, added 11 points and 12 rebounds to record his third double-double of the season. He also added a career-high four blocks and two steals. Hawks Talon's FOLLOWTHEGOD added nine points and four rebounds while KEL added nine points and two steals. Rounding out the group was MRSTLYEZ who added eight points, four rebounds, four assists and one block.
In the third game, Hawks Talon's BP totaled a game-high 34 points to go along with a season-high six steals and five assists. With this performance, BP has hit the 30-point scoring mark in each match-up this season. KEL added 22 points and two assists while LEE scored eight points to go along with 11 rebounds, four assists and three blocks. MRSTYLEZ finished with a career-high seven steals, five points, three rebounds and two assists. Hawks Talon's FOLLOWTHEGOD totaled four points, two assists and a season-high two blocks.
Hawks Talon will continue its regular season competition as part of six weeks of remote gameplay. The club's next match will take place at 7 p.m. on Friday, May 15 against Pacers Gaming. These games will be livestreamed on the league's Twitch and YouTube channels.
To stay up to date on Hawks Talon Gaming Club, visit HawksTalonGC.gg and follow the team's social channels on Twitter, Instagram and Facebook.
© 2020, Eldorado2452. All rights reserved.