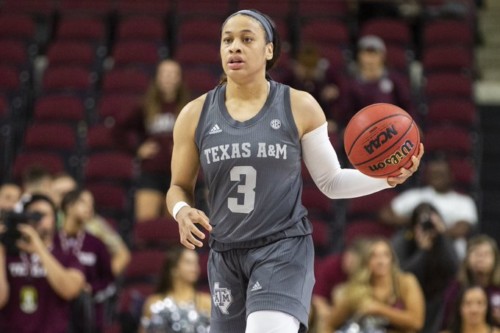 The Atlanta Dream selected four top prospects in the WNBA Draft 2020 Presented by State Farm, headlined by Chennedy Carter, who was selected No. 4 overall.
With the 4th pick in the 2020 #WNBADraft, the @AtlantaDream have selected Chennedy Carter @ChennedyCarter pic.twitter.com/IPH7gJR84R

— Terrell Thomas (@Eldorado2452) April 17, 2020
With the No. 17 (second round) overall pick, the Dream selected Brittany Brewer out of Texas Tech. In the third round, Atlanta selected Mikayla Pivec of Oregon State (25th) and Kobi Thornton of Clemson (27th).
Carter, a 5-7 guard out of Texas A&M, entered the draft at the conclusion of her junior year and becomes the highest drafted player in Aggies history. The standout was one of the most dynamic scorers in NCAA D-I during her three-year career, having averaged at least 21 points in each of her seasons at Texas A&M. She finished her collegiate career with averages of 22.5 points, 4.2 rebounds, 4.1 assists and 1.7 steals over 88 games.
With the No. 4 pick in the #WNBADraft the Atlanta Dream select the #SwaggyAggie!

Welcome to the 🅰️, @ChennedyCarter! pic.twitter.com/maGXTS5sE4

— Atlanta Dream (@AtlantaDream) April 17, 2020
"We couldn't be more excited to welcome Chennedy and her family to the ATL," Dream Head Coach Nicki Collen said. "Chennedy is a gifted scorer, possessing great speed, skill and strength with the ball in her hands. While she split time at the guard positions in college, we believe Chennedy will thrive as an up-tempo point guard in the WNBA. She is an underrated passer with the ability to attack the lane to create opportunities for herself and her teammates. We believe Chennedy has a chance with time and commitment to be a special player in Atlanta."
Her record-breaking career included becoming the first Aggies player to be named an All-American in her first three collegiate seasons, as well as the first player in program history to be selected to the All-SEC First Team in first three years of career. After her tremendous freshman campaign, she was the first player in Texas A&M's history to earn National Freshman of the Year honors in 2017-18, behind averaging 22.7 points, 4.9 assists and 3.6 rebounds.
Not one to shy away from the big moment, Carter scored at least 26 points in all six of her career NCAA Tournament games, leading the Aggies to the NCAA Sweet 16 twice. Among players with at least five NCAA Tournament games played, Carter ranks third in scoring average at 31.0 points per game, trailing only Elena Delle Donne (34.4 PPG at Delaware) and Sheryl Swoopes (31.7 PPG at Texas Tech).
Brewer, a 6-5 forward out of Texas Tech, averaged 16.6 points, 10.3 rebounds and 4.0 blocks per game as a senior, on her way to All-American honorable mention recognition and an All-Big 12 First Team nod. She capped her career as one of the "Final Five" contestants for the Lisa Leslie Award for the nation's top center, and finished her final season as the only D-I player to average at least 15 points, 10 rebounds and four blocks per game in 2019-20.
"I am thrilled to welcome Brittany to the Dream family," Collen said. "Brittany's greatest strengths are running the floor and finishing around the rim. She has great hands and a solid pivot foot and can score in a variety of ways around the rim. Brittany is working to develop her shot to the three-point line consistently and I am excited to see how we can aid in her growth here in Atlanta."
Brewer became the first Lady Raider to record a triple-double in 22 years in 2019, scoring 12 points with 14 rebounds and an NCAA-record-tying 16 blocks against Louisiana-Monroe on December 22, 2019.
With USA Basketball, Brewer led her team to a silver medal finish by averaging 4.0 points and 3.7 rebounds per game at the 2019 Pan American Games, making her the first Lady Raider to earn a medal for USA at the Pan Am Games.
A 5-10 guard out of Oregon State, Pivec was a four-year starter for the Beavers after coming in as the highest-rated recruit in program history (No. 24 national ranking by ESPN). Pivec averaged 14.8 points, 9.3 rebounds and 4.5 assists per game in her senior season, earning her a spot as one of 10 finalists for the Cheryl Miller Award for the nation's top small forward for the second consecutive season.
"Mikayla is flat out one of the toughest guards in the country," Collen said. "She is good athlete with a knack for rebounding and creating opportunities for her team and has added to her game each and every year at Oregon State. We are excited about the toughness she will bring to our Dream roster and can't wait to welcome her to the ATL."
Her record-setting senior season also led Pivec to her third career All-Pac-12 nod and a Pac-12 All-Defensive Team honor, as well as three Honorable Mention All-American honors from WBCA, AP and USBWA. She finished her career as just the third player in Oregon State history to score at least 1,000 points and grab 1,000 rebounds. Pivec etched her name all over the programs record books as the all-time leader in rebounds with 1,030 over her four-years and finished eighth in points (1,641) and fourth in assists (499).
With USA Basketball, Pivec helped her team finish with a 4-1 record and a silver medal at the 2019 Pan American Games in Lima, Peru, averaging 4.2 points, 4.0 rebounds and 2.4 assists per game.
Thornton, a 6-2 forward from Clemson, finished her career ranked No. 3 on the program's career list for total blocks, No. 6 in total rebounds and No. 11 in points. As a senior, she led the Tigers in scoring, averaging 13.1 points per game. She was second on the team with 5.7 rebounds a contest.
"Kobi is a prototype WNBA athlete. She is good around the rim, great on the glass, and competes on every possession. We are delighted to welcome her to the Dream"
The Shellman, Ga. native earned numerous awards during her collegiate career, including being named to the All-ACC Second Team as a junior and selected to the ACC All-Freshman team in 2016-17.
This season marks the organization's 13th season in the WNBA. The team, which will play its home games at the Gateway Center Arena @ College Park, has qualified for the WNBA Playoffs in nine of its first 12 seasons.
Stay tuned to HHS1987. Follow @eldorado2452 on Twitter and Instagram for all your WNBA, Atlanta Dream and sports news.
© 2020, Eldorado2452. All rights reserved.