Real Hip Hop heads know and recognize the true queen of pop.
Throughout her career, Madonna has been both a great fan and producer of awesome music. Apart from being a living legend in several genres, she has also wielded her influence in ways befitting a queen of her status and power. She was the Stonewall ambassador when New York City hosted World Pride in 2019, during the 50th anniversary of the riots. She even gave the €120,000 ($132,000) she won on the Superenalotto to a foundation that used the money to build a school in Malawi – and that was just the second division prize. Imagine what she could've done with the grand prize, considering how Lottoland notes that the MegaMillions jackpot is around $100 million. Although Madonna has shown excessive behavior throughout her career, it's hard to hide the fact that she just wants to spread love and help people. And that's a big part of why she's well respected and has been able to collaborate with basically anyone she wants to in hip hop.
 4 Minutes feat. Justin Timberlake & Timbaland
Instantly infectious from the first minute and gratifying till the last, 4 Minutes is arguably the best use of Timbaland's signature bhangra beats, the perfect backdrop to the chemistry of music and movement between Madonna and Justin Timberlake. Then again, you can't go wrong with three of the greatest dance-pop musicians in the world. The song's Grammys for Best Pop Collaboration With Vocals and Best Remixed Recording are well-deserved. If only they also gave out awards for how well some songs can tread the fine line between pure pop and hip hop.
Bitch I'm Madonna feat. Nicki Minaj
Wild, sexy, alive and kicking. Rapper Nicki Minaj is the perfect companion to the queen in this trap bop that sounds new but looks and feels very much like a classic dirty Madonna song. Check the video to see who else made cameos (apart from Beyoncé and Chris Rock).
I Want You feat. Massive Attack
This is as chill as it gets in a list of Madonna hip hop collabs. Electronic trip hop pioneers Massive Attack provides the backdrop as the queen digs into a classic for the album Inner City Blues: The Music of Marvin Gaye. A haunting trip hop tribute to the roots of R&B and soul.
Veni Vidi Vici feat. Nas
Retrospective rap bars exchanged between two legends in the game with hard trap in the background — what more can you ask for? Instead of complaining about all the bad music that's been coming out recently, Madonna and the mighty Kid Wave, also known as Nas, prefer to just show the kids how it's done. Madonna actually raps in this one.
I'd Rather Be Your Lover feat. 2Pac
An unreleased collab for the Bedtime Stories album, I'd Rather Be Your Lover sparked rumors of romance between the queen of pop and one of the greatest MCs who ever held a mic. Madonna confirmed these rumors to be true later in her career during an interview with Howard Stern. (Via The Source magazine) Another rumor about this song is that it was cut from the album by Warner Bros execs who didn't want Madonna being associated with the then-ongoing violence between East Coast and West Coast rap. Whatever really happened, we've been at least left with this soulful piece of boom bap.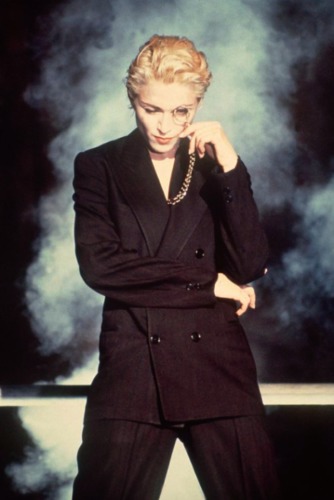 © 2020, Wilde Tuna. All rights reserved.