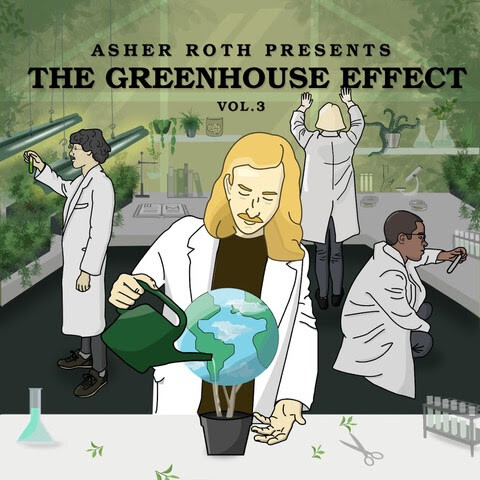 Eschewing high-wattage stardom in favor of inner tranquility, Asher Roth is forging a path that satisfies his artistic vision and passion for education. Today, Asher Roth announces the upcoming release of Greenhouse Effect Vol. 3, a new mixtape. Continuing a series that started under DJ Drama's Gangsta Grillz moniker, Greenhouse Effect Vol. 3 finds the Philadelphia native rediscovering his love for the art of rapping, weaving a complicated "rap opera" storyline around beats sourced from Twitch and Discord. Greenhouse Effect Vol. 3 arrives on September 3rd.
Asher Roth explains the story behind GEV3 in his own words: "The tape is a rap opera, of sorts, about a professor at the University of College who is teaching horticulture. A few students, looking at his long hair and birkenstocks, assume he can teach them how to grow pot. So he does. Eventually, the Greenhouse gets broken into by a few kids who steal the grow to sell it but ultimately get caught by a police officer–who's a former student of the Professor's class who could never learn how to grow. The pot (retrohash) being grown is actually magical and creates a portal to the World of Abundance, but only when smoked by a kind soul. If smoked by a bad apple, the world as we know it would erode."
The project's core theme about the triumph of cooperation over greed is reflected by the its unique creative origin. Greenhouse Effect Vol. 3 grew out of a pandemic experiment, created through a fully-virtual collaborative process that lasted months. Every Wednesday, Asher would share acapellas on his Discord, and inspired by his rhymes, fans would create their own instrumentals. Asher would listen to the submissions live on Twitch, and judge his favorites. The 20-week experiment ultimately became GEV3, with 15 songs created by Asher and 12 different producers.
To give fans a glimpse of the tape's vibe, Asher shares the GEV 3-Piece, a three track collection of Twitch-session highlights that didn't make the project. Arriving with a stylish, black-and-white video, directed by Dan Abel, "Snazzy Kat" is a rumination on Asher's faith in himself: "I got ahead/By putting my head on a pedestal/Instead of being fed an embellishment for a better world/this one's acceptable." "Laryngitis," on the other hand, is a meditative lyrical exercise that uses an instrumental fit for a Turner Classic Movie. Armed with a psychedelic boom-bap instrumental, the third track, "Cruise Ships," packs a metric ton pop culture references and tight lines into a sub-minute runtime.
Over a decade after releasing his debut album Asleep In The Bread Aisle, Asher Roth has settled into a creative and productive life as a musician, activist, and entrepreneur. He designs his own merch, and founded RetroHash, his own record label, on which he released his 2020 album Flowers On The Weekend. He's an outspoken activist in favor of marijuana legalization, and has a plan to enhance music education in his hometown of Philadelphia with special programs and projects. Asher helped found Sunflower Philly, a slice of natural life in the heart of Philly that acts as a community-first venue for art, music, events, and more.
The upcoming Greenhouse Effect Vol. 3 reflects his passion for teaching, talent for artist development, love for collaboration, and belief in the importance of self expression. Many of the producers on the project had never placed a song before, and Asher took the time to teach them about royalties and publishing splits. He is determined to help these producers develop careers of their own. Stay tuned for more.
Ahead of the project's release, Asher will be hosting an in-person listening party at Sunflower Philly (an outdoor venue) on August 28th, and will host a Discord listening party for non-local fans on August 30th.
Stream GEV 3-Piece: https://asherroth.ffm.to/gev3piece
Watch "Snazzy Kat": https://youtu.be/ba6qnFi2z2w
© 2021, Seth "Digital Crates" Barmash. All rights reserved.