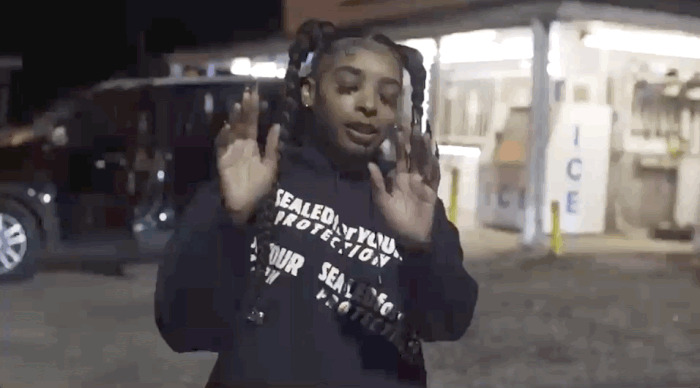 Armed with blunt force bars and a fierce attitude, Big Jade always puts forward her authentic self in her music videos. Sharing her latest slice-of-life clip from her day-to-day in Beaumont, Texas (a small city 1.5 hours east of Houston), Big Jade shares "I Tell You What." Produced by her mentor, Houston club god BeatKing, "I Tell You What" adds Texas-sized 808s to a sample of Jerry Butler's "No Money Down," which Kanye West famously sampled for The Game's "Dreams."Rhyming with a flow that ranges conversational to rapid fire, Jade lays down her operating philosophy in forceful bursts of syllables: "Get it by any means necessary, never put your trust in a man." In the video, Jade mobs outside of a Beaumont liquor store, holding a bottle of dirty Faygo in her immaculately manicured hands while she spits her fire. "I Tell You What" is the latest video from Pressure, Jade's hard-hitting debut album.
Acclaimed by Stereogum, who called the album "grimy and guttural, with a punch-you-in-the-jaw directness and a deep snarl," Pressure rolls out the red carpet for a series of guests from the Lone Star State, including, Erica Banks, Queendom Come, and OMB Bloodbath, a group of Houston and Dallas rappers giving the co-sign to the talented Beaumont native. The project is home to highlights like the recent single "Dem Girlz" ft. Erica Banks & BeatKing, a David Banner-flipping banger perfectly suited for rides in the low-low, the blistering introductory "No Hook," and the sultry, DJ Chose-produced "Gucci Bag." Throughout, Jade stays rooted in her home state, but isn't afraid to incorporate sounds from other regions, including hyperactive acid bass often heard in L.A. and the Bay in "Get It!" A powerful introductory statement from a vital new Texas talent, Pressure is available everywhere via Alamo Records.
Bursting out of a small Texas city, a long drive removed from industry hubs like Houston and New Orleans, Big Jade built an online following with her unapologetic realness. In popular videos like "RPM" and "Phone Jumpin," praised by Pitchfork, Jade exists in her element, showing off her rapping ability while styling hair, her longtime day job. Her brief, but visceral Texas trap bangers caught the attention of Houston heavy-hitter BeatKing, who took her under his wing and offered her guest verses and some of his fieriest beats. Now signed to Alamo Records and with co-signs from Audiomack, UPROXX, Okayplayer, Brooklyn Vegan, HotNewHipHop, and more, Big Jade is ready to make the leap from being the pride of North Beaumont to a nationally recognized star.
Watch "I Tell You What": https://youtu.be/ibLLUVUXzzY
Buy/Stream Pressure: http://smarturl.it/PressureBigJade
Pressure tracklist:
No Hook (Prod. by BeatKing)
All Gas No Brakes (Prod. by BeatKing)
Gucci Bag (Prod. by DJ Chose)
Pressed ft. OMB Bloodbath (Prod. by BeatKing)
Up Now
Dem Girlz ft. Erica Banks & BeatKing (Prod. by BeatKing)
I Tell You What (Prod. by BeatKing)
Jade Wins (Prod. by BeatKing)
Respectfully ft. BeatKing & Queendome Come (Prod. by BeatKing)
Get It! (Prod. by Bankroll Got It)
Instagram | twitter | youtube | soundcloud
© 2021, Seth "Digital Crates" Barmash. All rights reserved.