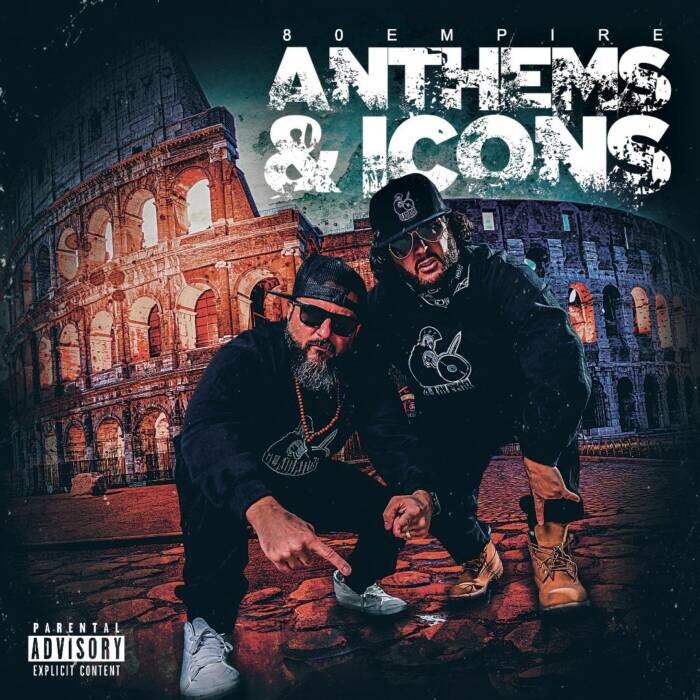 On December 10th, 3 x Multi -Platinum, Top 20 Billboard Charting, Juno Nominated brothers Lucas and Adrian Rezza, known collectively as 80 EMPIRE officially dropped their sophomore LP!  Their new 17 Track album entitled "ANTHEMS AND ICONS" was executively produced by 80 EMPIRE and released via Gladiator Records Inc. The Italian/ Canadian Brothers have been pioneers in putting Canada on the music map and went beyond hip hop with the latest project. The new LP, which serves as an anthem of preserving the struggle features Cultural Icons in both music– and in film. The artists featured  on "ANTHEMS AND ICONS" track-list include: Sons of Anarchy Actor and Musician: THEO ROSSI on Track #1 "GIANTS INTERLUDE", Apocalypto Actor RAOUL MAX TRUJILLO & rapper YUKMOUTH on Track #6 "ATHEMS AND ICONS", Netflix Actress and Singer LAETITIA EIDO & DMC of RUN DMC on Track #16 "WANDER" and fan favorite "I AIN'T LOOKING BACK" ft their very own father- PAPA J and an All Star Lyrical line- up that includes: KRS-ONE, DJ, ECLIPSE, KRS-ONE & DJ ECLIPSE, SIZZLA & KASSIOPIA, SLAINE, NEMS, SWIFTY MCVAY & DJ SPICE, WC, GCASINO, LAYZIE BONE, GRAFH, PAPA J, KXNG CROOKED, JOMI, TONY HOOKS & JON CONNOR. 80 EMPIRE have already dropped Track #5 "SALUTE ME" ft. SLAINE to digital streaming platforms November 19th and are expected to release  "WALK WITH THE GIANTS" ft & MC EIHT & KURUPT next. The Brothers are also set to release a short film about "ANTHEMS AND ICONS" -that will be narrated by actors Theo Rossi, Laetitia Eido, Raoul Max Trujillo as well as include music from some of Hip-Hop's finest! Just last month 80 EMPIRE, who are Co-Founders of the Indi Boutique Label Gladiator Records Inc. announced that they signed a distribution deal with  independent distro platform- FAT BEATS, and credit A&R Matthew Markoff aka "M80" for helping to make happen!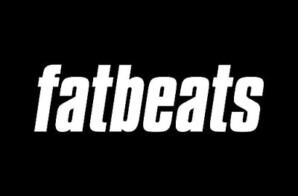 Check Out the Track-list for "ANTHEM AND ICONS" by 80 EMPIRE and listen to the new album HERE!
WE RUN SHIT ft KRS-ONE & DJ ECLIPSE
GIANTS INTERLUDE THEO ROSSI
WALK WITH THE GIANTS ft & MC EIHT & KURUPT
HARDCORE ft SIZZLA & KASSIOPIA
SALUTE ME SLAINE
ANTHEMS AND ICONS ft RAOUL MAX TRUJILLO & YUKMOUTH
BRAVO ft NEMS, SWIFTY MCVAY & DJ SPICE
LEFT, RIGHT, LEFT ft WC
TOO WELL GCASINO
WHAT'S GOING DOWN ft LAYZIE BONE
IN THE BEGINNING ft GRAFH
I AIN'T LOOKING BACK ft PAPA J
FALLEN ANGELS ft KXNG CROOKED
RUNAWAY GIRL ft JOMI
HOLLYWOOD DREAMS ft TONY HOOKS
WANDER ft LAETITIA EIDO & DMC
STAND FOR SOMETHING ft JON CONNOR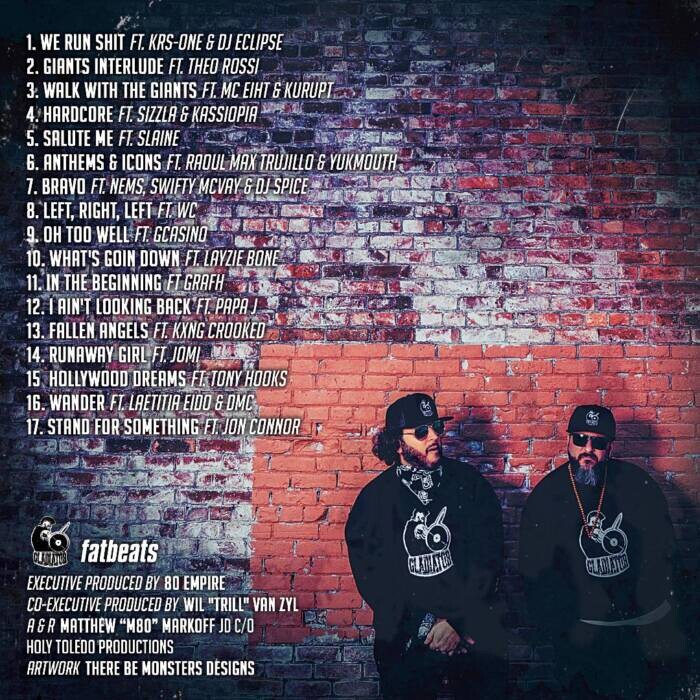 During the creative process of "ANTHEMS and ICONS", Adrian became hospitalized while battling COVID -related pneumonia and a collapsed lung. After a month long hospital stay, Adrian was finally released but he wasted no time getting back into the studio with Lucas to complete the project that they both call "therapeutic" to their struggle while making. Lucas and Adrian Rezza, known professionally as 80 EMPIRE are formerly from Toronto Canada, and currently live in Niagara on the Lake. The Italian/Canadian brothers not only speak- but can also RAP – fluently in French, Spanish and Italian. When it comes to the creative aspect of things, Lucas handles all of the physical production- he plays piano as well as drums, and has an ear for beats, while Adrian shines in the singer-songwriter, rapper role.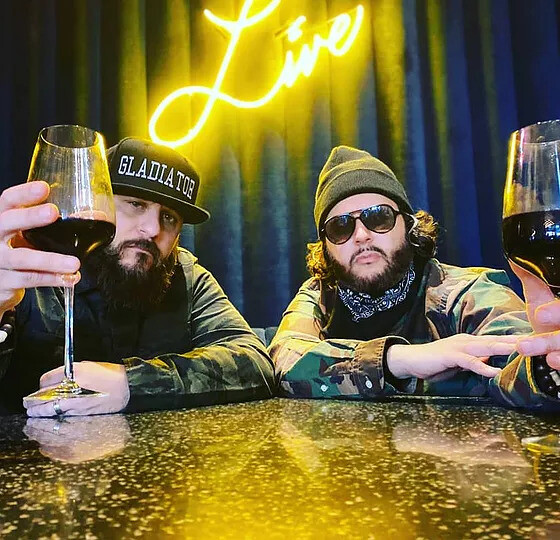 The two brothers who are the CO- owners of the 80 EMPIRE BRAND are also multi -platinum, Top 20 Billboard charting, Juno nominated, singers, songwriters, producers, rappers. They have gone 3 times Multi- platinum, having written and producing DARREN ESPANTO 's 2015 track "I BELIEVE IN ME", Charted #20 on Billboard for OBIE TRICE album "BOTTOMS UP", where they Produced and wrote the single "BATTLE CRY" and Juno nominated for Best Hip Hop Album Category "BLACK TUXEDO"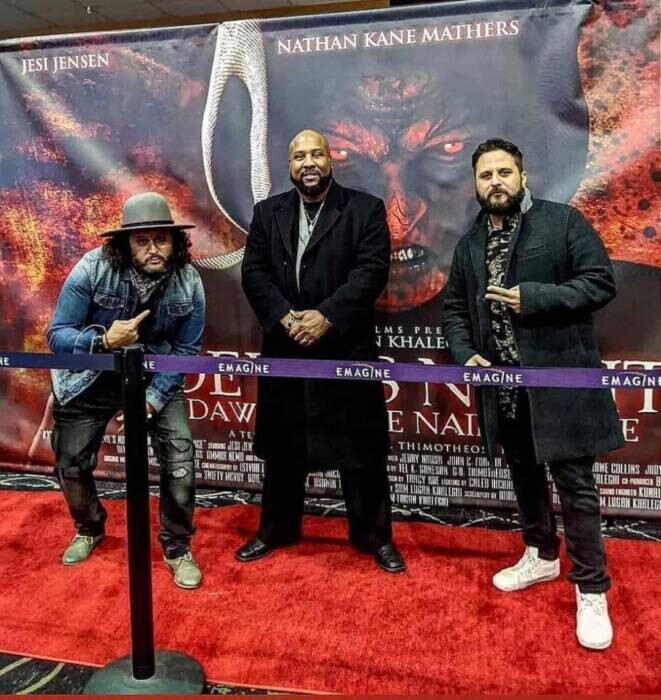 80 EMPIRE have credits in TV & Film! Their discography includes: Bossa-Nova and Samba, theme songs for "Bravo's Real Housewives of Miami" and a song for the new upcoming Housewives' season entitled: "BALANCA". They created the anthem for Canadian Opera star Measha Brueggergosman's "Hip-Hopera" and exclusively produced the theme song for the movie "3 ROADS". They sang the National Anthem for the NBA : Raptors and Miami Heat game as well as the MLB: Blue Jay vs Seattle game. They've also collaborated with the Iconic Canadian Rock band "Our Lady Peace" and Pussy Riot called "SMSPF".
80 EMPIRE worked with major names in Music during the course of their career like Obie Trice and even credit the record "Battle Cry" as the song that put them on the map. They have also collaborated on projects with artists like: Conway the Machine, Chino XL, Obie Trice, Cee-Lo Green, Kool G Rap, Jadakiss, Bishop Lamont, Fred The Godson (R.I.P.), Krayzie Bone, Ali Vegas, Divine Brown, K-os, Peter Jackson, Kool G Rap, Bone Crusher. Music Soul Child, and Benny the Butcher. It is said that they are the very first Canadians to have worked with the Black Soprano Family Founder and Buffalo Native- the 2020 Hit Track: "Welcome To 716" featuring Balistic Man and ELO. They have also produced for the founding member of The Commadores, Clyde Walter Orange and have graced the stages performing alongside artists like: Snoop Dog & Wiz Khalifa, and even at the San Gennaro Festival with host Jimmy Kimmel.
80 EMPIRES last album "Legacy" that dropped in January of 2021 has currently hit over 2.5 million streams on Spotify and their single "Take It Back" ft Kxng Crooked has already reached over 1 Million streams! Their music has been played on the airways by DJ Pioneers: Premiere, DJ Eclipse and Kid Capri on stations like Shade 45, Hip Hop Nation and Ruff Ryder Radio.
The two also have been featured in publications like: Hip Hop Dx, Boom Bap Nation , CRAZY HOOD, Hip Hop Canada & Revolt to name a few!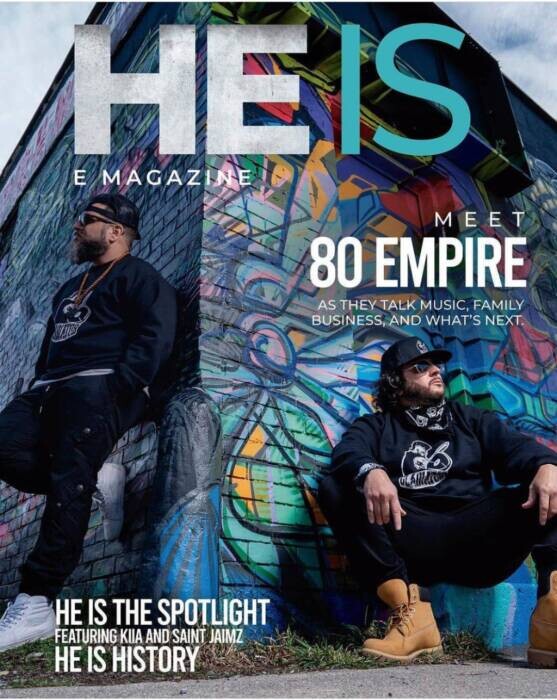 Lucas and Adrian Rezza's boutique Indie label Gladiator Records Inc. are also the Sponsors of the Youth Niagara Soccer Team.
80 Empire's Album "ANTHEMS AND ICONS" is out now on all Streaming Platforms.Stay tuned for their next release "WALK WITH THE GIANTS" and the upcoming Short Film!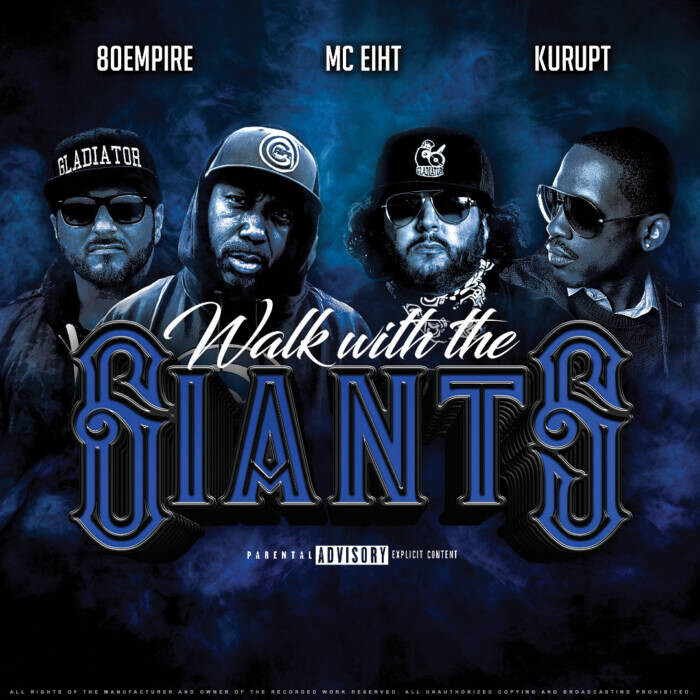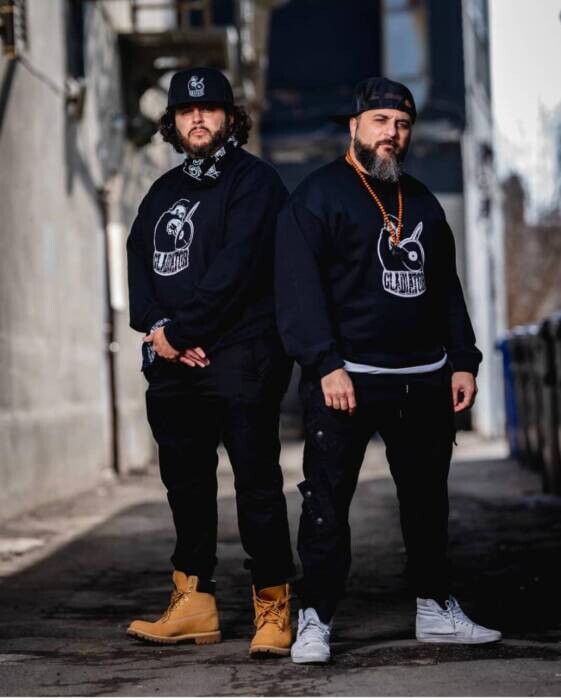 Connect:
IG: https://www.instagram.com/80empire/?hl=en
Twitter: https://twitter.com/80empire?lang=en
FB: https://www.facebook.com/80Empire
Website: https://www.gladiatorent.com/80-empire
Website: Gladiatorent.com
Management: Novamusicgroup
Booking info: [email protected]
Email : [email protected]
@Lucas Rezza @[email protected]
© 2021, Kim Coco. All rights reserved.