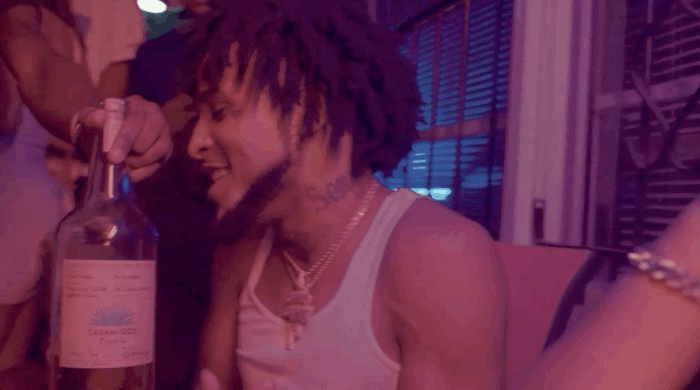 Rising out of Georgia's busy music scene with his silky smooth pipes, Chino Cappin splits the difference between hard-nosed trap and romantic R&B. Presenting himself at his most seductive, the 20-year-old Georgia native shares "Til The Morning," a sultry new slow jam. Skating atop wah-wah-ing guitars and swelling keyboards, Chino spins an explicit bedroom jam, using the raspy edges of his voice to work an in-the-pocket cadence that slides between the song's 808s. In the video, Chino presides over a bustling house party, as he pours Casamigos tequila and dances with beautiful women. Available to view on YouTube, "Til The Morning" is the latest video to follow in the wake of Ladders, Chino's new project, out now via Alamo Records.
Home to recent videos like the Willie Hutch-sampling  "Money On My Mind" and the playful "Still Loading," Ladders drips with the bravado of a man confident in his abilities, like on the recent single, "Hot Sh*t" ft. Metro Marrs, but also demonstrates the maturity necessary to describe complex relationship scenarios with relatable lyrics. Ladders is home to highlights like the aspirational "Shine," and the sultry break-up anthem "Fake Love." Chino explores new dimensions of his character on introspective songs like "Feelings" and romantic tracks like "Sunshine." Imbued with Chino's deep love of music and his gratitude for escaping out the mud on the back of his talent, Ladders finds the Alamo Records-signed artist as he's ready to explode out of his hometown in rural Georgia and draw new connections between rap and R&B on a national scale. Featuring an appearance from 1017's Enchanting, Ladders is available to stream everywhere via Alamo Records.
Born and raised in Fort Valley, Georgia, just outside of Atlanta, Chino focused on music as a teenager as a way to escape his rough circumstances. The rapper built a cult following in the Southeast with mixtapes like Cold Hearted and Too Many Losses, which combined strong melodic instincts with braggadocious bars and clear-eyed observations about life on the streets. The then-teenaged artist built buzz with a successful college tour, turning up the heat with singles like "Lap Dance," "NaNaNa," "Fake Love," and "Different," a collaboration with YSL-affiliated rapper Yak Gotti. He's earned praise from UPROXX and Dummy Mag, and told his story in an interview with Dirty-Glove Bastard. Earlier this year, Chino shared  F*CC It BaCC To The BasiCs, a new mixtape that finds Chino rhyming over instrumentals from all eras, including samples of songs by Moneybagg Yo, Usher, and more.
With Ladders, Chino shows what he's capable of, as he declares his intentions to grow from local star to national name.
Watch "Til The Morning": https://youtu.be/XG92ulaoXpo
Buy/Stream Ladders: http://smarturl.it/ChinoCappinLadders
© 2021, Seth "Digital Crates" Barmash. All rights reserved.