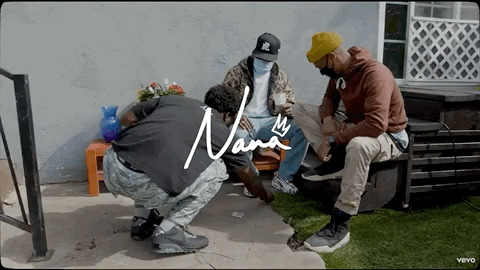 Released on November 6th 2020, Save Yourself weaves vivid stories of survival and redemption during these unprecedented times with guest features by REASON and Blakk Soul. A preacher's kid growing up in the Crenshaw District of LA, Nana is determined to empower himself and inspire others to grow beyond the circumstances and environment from which they come from via thought-provoking lyrics and visuals in the same vein of hip-hop legends Kendrick Lamar and Nipsey Hussle.
4/22: "Come & Go"
4/26: Nana Interviews Video Director Andrew Litten
Save Yourself Sessions: Act II
5/10: "New Benz"
5/13: "Her Song"
5/17: Nana Interviews DJ Devon Paul
Save Yourself Sessions: Act III
5/31: "You & I"
6/7: "Out My Mind"
6/10: "Running"
6/17: Nana Interviews Art Director/Photographer Kayla Reefer
Save Yourself – Tracklisting
01. Heaven & Hennessy
02. L.A. Times (feat. REASON)
03. King's Blvd 2
04. On My Momma
05. Options
06. New Benz
07. Her Song
08. Come & Go
09. You & I
10. Out My Mind
11. Running
12. Save Yourself (feat. Blakk Soul)
About Nana:
Instagram | Twitter | YouTube | Soundcloud | Spotify | Apple Music | Website
© 2021, Seth Barmash. All rights reserved.