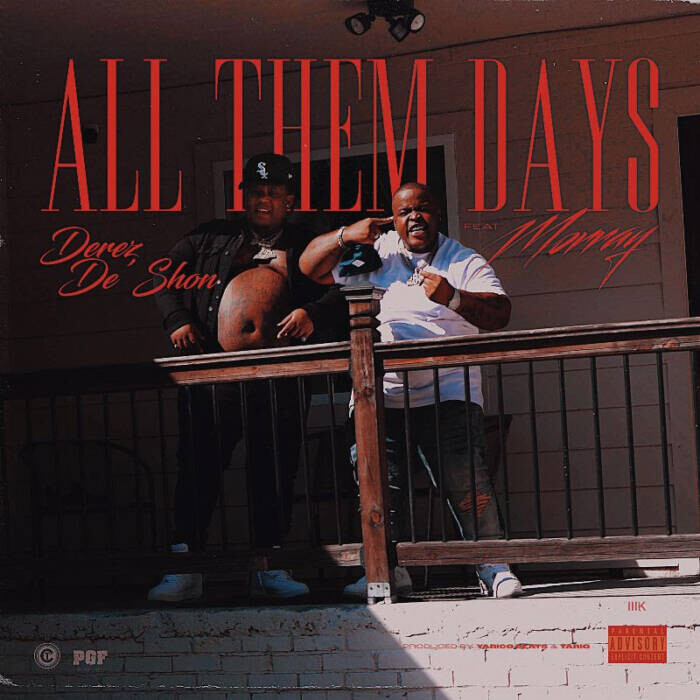 Derez De'Shon, "the Godfather of Pain Rap", has just shared his newest video single "All Them Days" featuring 2021 XXL Freshman Morray. "All Them Days" is a showcasing of the different generations of "pain rap" coming together for a worthwhile collaboration, with the result being this soulful and introspective track. The melodic instrumental serves as the perfect backdrop for Derez and Morray to flex their vocal range and to trade verses about the depths of their individual struggles. The music video depicts the early adolescence of the artists, a visual representation of the hard-knocks upbringing detailed in "All Them Days". The collaboration displays the influence Derez has had on this generation of superstars, like Morray, and his ability to still innovate and produce a sound that's his own.
"All Them Days" is Derez De'Shon's third single of 2021. In August he released "In My Feelings" and in May, he guested on Quin Nfn's "Having My Way". In September, Derez dropped "Residue" featuring East Atlanta's own Money Mu. This followed a 2020 that saw Derez release the third installment of Pain, De'Shon's acclaimed series. On 2018's Pain 2, which streamed over 150 million times, the rapper collaborated with YFN Lucci ("Beat The Odds") and Russ ("Fallin"). Backed by The Commission Music/BMG, that release entered the Billboard Top 200 at #186. The series kicked off the year prior. That collection featured "Hardaway," the platinum-selling single with over 300 million streams and views combined. 2 Chainz, Yo Gotti, and DJ Envy appeared on an official remix. Pain earned its name with heartfelt records like "Fed Up" (100+ million streams), "Lord Forgive Me," and "P.I.L. (Pain Is Love)". Combined, he has more than 800 million streams globally. Across his catalog, Derez creates a unique blend of trap soul, hence why fans have given him the nickname "The Godfather of Pain Rap".
© 2021, Seth Barmash. All rights reserved.