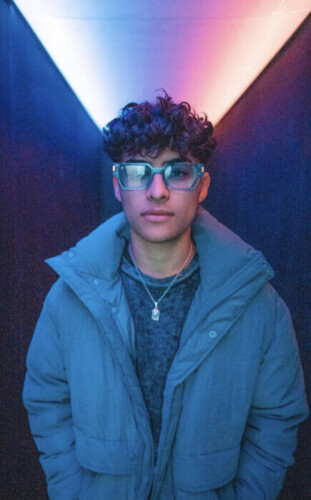 As a young boy, Gianni Cures knew he loved music. In fact, he started singing very early on, but he lacked the courage to pursue it professionally. When he turned 19, Cures packed up his life in San Diego and hightailed it to Hollywood. Surrounded by artists and social media influencers, it took no time for his talent to be noticed and nurtured.
With his friends' constant encouragement, he started creating music in his studio apartment. Soon he was able to song-write, record, and produce more music. Once he became popular in the scene, more influencers and creators started pushing out his music to their fans. Gradually, his confidence grew, and he produced even more.
After studying the market carefully, he realized that most fans have a fleeting attention span. Taking this as a personal challenge, he started experimenting with different sounds and genres to create something outstanding. Finally, he discovered a mix that worked well. His music now contains a healthy mix of genres like pop, hip-hop, EDM, and rock. Additionally, he incorporates multiple switch-ups to give it a new feel and keep the fans' attention.
Currently, Gianni is revolutionizing the industry with his innovation and youthful energy. He has a unique sound no one before him has attempted. It has also established him as a master of the game at the mere age of 23.
Gianni's mission is clear. All he wants is to change lives and make an impact in the world. He has taken it upon himself to "Cure the world with music." You can listen to his tracks on any major music streaming platform.
Making a name for himself in the music industry was not an instant thing. He jumped into as many sessions as he could to network with other artists and gain more experience. In addition to that, he developed a marketing strategy that worked. For instance, he leveraged his vast network of influencer friends. In exchange for help promoting his music on their platforms, he offered to help them market their businesses or music too. And, of course, creating quality music that spoke for itself ensured he stayed visible.
To any aspiring artist out there, Gianni's message is simple. First, if you have a dream, stop overthinking and go for it. He acknowledges that circumstances will never be completely right at any given time. However, overthinking will only stop you from pursuing your passion. On the other hand, believing in yourself will make it harder to focus on the odds stacked against you.
Second, you must never stop researching and learning. Research skills and techniques that will make you different from the rest in your industry. Learn how to do things on your own so that you don't have to rely on anyone else or their time for your success. After that, perfect your craft and shine.
At the moment, Gianni is working on becoming one of the biggest artists in the world. A world tour where he can inspire as many people as he possibly can is also part of his plans. After all, music is medicine, and Gianni Cures wants to "Cure the world with music."
© 2021, Brauch Owens. All rights reserved.