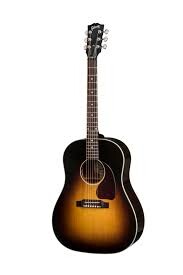 When it comes to guitars, Gibson has been a household name for decades. From their iconic silhouettes to their equally-as-iconic wielders, these guitars have been one of the staples both in the music industry and guitar playing in general. There are also other brands out there that make great-sounding guitars. However, when people see Gibson, they immediately know it is a premium.
When you think of Gibson, you may be more familiar with their electric guitars. For example, you have the Les Paul, named after one of the American jazz guitar-playing greats and notably used by Slash. Then there's the SG, famously used by AC/DC's Angus Young. While these are great guitars, they're more than just an electric guitar brand. Gibson's renowned craftsmanship and ability to create guitars that produce a rich and sustained sound have also been a signature of their acoustic guitars. Thus, you could say that their development of acoustic instruments such as the Gibson acoustic guitars have helped pave the way for their progression into a world-renowned guitar brand.
What's In A Gibson?
The Gibson guitars we know of today have resulted from a long history of innovation, research, and challenges. The company first started out with Orville Gibson, who made mandolins and other similar instruments. As time went on, the brand started to develop other musical instruments. This helped bring forth the development of the first archtop guitar, the L-5.
Of course, the brand's creativity and drive for innovation didn't stop there. Gibson continued to refine and improve on what they knew and did their best to keep up with the times. More and more guitars, both acoustic and electric, were produced by the brand. As time went on, guitar lines such as the Thinline series for acoustics and the SG, Firebird, and Explorer for electrics were produced.
Nowadays, there are a variety of Gibson guitars to choose from. While the electric guitars seem to be more well-known, their acoustic guitars also carry the same level of craftsmanship and quality as any other Gibson instrument. Since they have honed the art of creating a quality acoustic guitar, they don't deviate much from what they know and keep it as simple as possible. Things like choosing the best tonewoods to produce the rich sound Gibson is known for and the right parts to accompany it are always a priority for any of their acoustic guitars. After all, why deviate from a formula that has proven to be timeless?
What Acoustic Guitars Do I Have to Choose From?
Gibson has a wide selection of acoustic guitars, with each guitar made to fit the needs of just about any guitar player.
For example, the Gibson J-series offers a variety of jumbo-shaped guitars. Models such as the J-45 provide you with a pretty versatile instrument, which you can use for just about any genre of music. What's more, this is also a pretty dependable and sturdy guitar, which would explain why it's one of the best-selling Gibson acoustic guitars.
If you're looking to spend a little more money, there's also the SJ-200, also known as the Super Jumbo. This guitar not only has Gibson's signature sound quality but also showcases the brand's quality of workmanship. The SJ-200 has special finishes, hardware, as well as inlays, among several other intricate details.
Another notable Gibson model would be the Hummingbird, famously used by the Rolling Stones' Kieth Richards. Said to be one of the best acoustic guitars out there, the Hummingbird is an example of how Gibson manages to expertly merge a modernly crafted guitar without compromising on the classic and vintage appearance the Hummingbird is known for. While it is one of the pricier pieces Gibson has available, it's definitely worth spending for as the quality of sound and feel is unlike any other.
Gibson guitars are a household name for a reason. They're a product of near-perfect craftsmanship, producing a sound unlike any other acoustic guitar out there. While there may be others of good quality, none of them come close to what a Gibson can give you. Although these guitars may come pricier than others, the long list of Gibson acoustic guitar users – from Neil Young to Jimmy Page – prove that they're worth the pretty penny.
© 2021, Seth Barmash. All rights reserved.