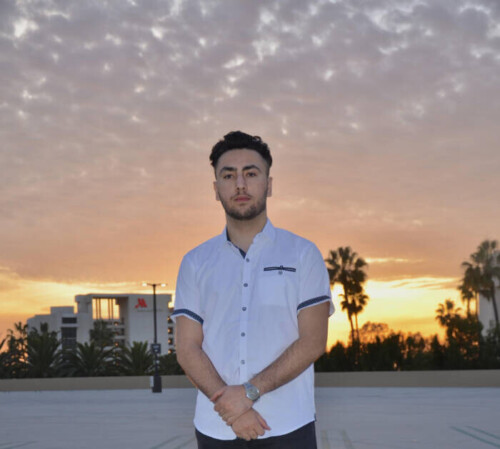 You have to earn money in order to put food on the table. This is the reason most people show up for work day after day even if they don't like it. Only a few lucky ones have managed to absolutely love what they do for a living. It is those who dared to come out of their comfort zone and pursue their passion. Haseeb Azizi is a burning example here. His inspiring story of becoming a rising star in the music industry can motivate millions of young talents to chase their dreams. This is, in fact, the theme of Azizi's music.
Azizi started his journey from a small music band called "Captivated" during his college days. He was always introverted in school. This gave way to his flair for writing. He was always more expressive in words written rather than spoken. Eventually, he became the lyricist and singer in the college band. Performing with "Captivated" allowed him to hone his skills. With that experience, he gradually realized his calling.
Being raised by a single mother, Azizi has grown up seeing the financial problems of his family. As the eldest of his siblings, Azizi has a realistic approach to life. He always knew that he had to earn money to help support his family after college. He used every penny he earned by performing in the college band to help his family. This made him realize that he could never be satisfied with any career just to earn money; he could not be happy in a job limiting his life to weekly pay cheques.
His friends from "Captivated" were a huge motivation in his life during this period. They encouraged him to try to pursue his passion. He was working hard to balance his studies while also recording songs. Being well-aware of the power of digital media and its endless opportunities, Azizi went on uploading his recordings on various social media platforms like Instagram and YouTube. Eventually, life took a positive turn for him. His creative music earned a multitude of fans and appreciation from audiences across the world.
Azizi emerged as a revolutionary hip-hop rapper. His unique skill in blending classical tones with jazz made him stand out from the crowd. The soul-soothing tunes combined with electrifying rhythm and fiery lyrics created exceptional music which became Azizi's signature style. Through the lyrics, he often highlights the struggles of the young generation. He also talks about strength and motivation to overcome all challenges and follow one's passion.
The lyrics of his songs reflect the real-life struggles that he faced during his years of growing up. These struggles are often relatable to the youth of today. His songs allow him to reach his audience through music. The more he expresses real-world issues of Generation Z, the more people feel connected to his music.
Azizi wants to inspire more young artists to chase their dreams. He believes that every passion-driven person must pursue his dreams no matter what comes in their way. This is how artists achieve real success and attain fulfillment.
Azizi believes that young talents need some motivation to realise their calling and the determination to pursue their dreams. He wants to continue his journey to inspire people through music and help them find fulfillment.
© 2021, Brauch Owens. All rights reserved.