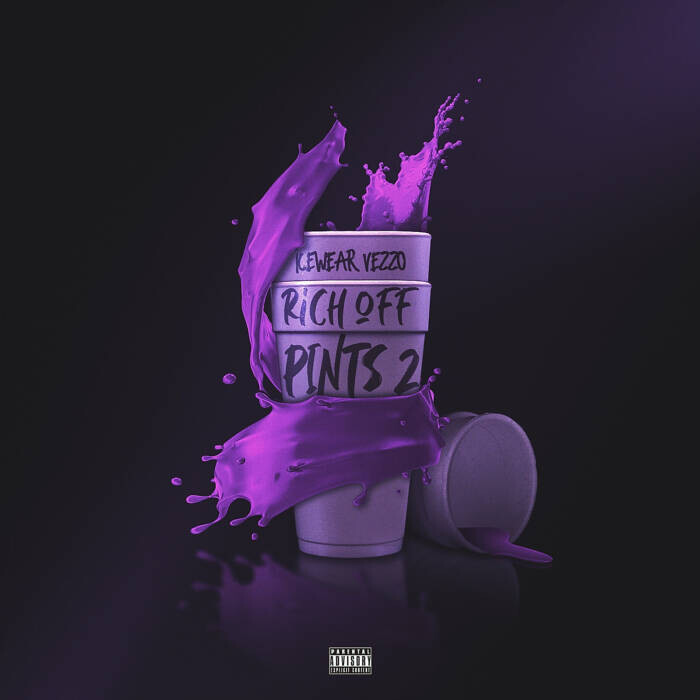 Icewear Vezzo captivates listeners with his easygoing rasp, his hard-as-nails demeanor, and his effortless slick talk. Further establishing himself in a rarified echelon of street rappers in Detroit and beyond, Vezzo shares Rich Off Pints 2, a new mixtape. The tape reverberates with the sounds of the Detroit scene that Vezzo helped develop, with ominous piano loops, bouncing 808s, and rattling hi-hats setting the scene for Vezzo's tales of his illicit past. The sequel to the Pitchfork-praised Rich Off Pints, ROP 2  continues the exploration of Vezzo's evolution from hustler to entrepreneur, elucidating the artist's competitive mentality one track at a time.
On the highlight track "Chamber Brothers," Vezzo compares himself to gangsters of Detroit's past, drawing parallels between his role in the rap game with their domination of the streets in the '80s, and on "Hustle Hard," he reveals his motivations to feed his family by any means necessary. The mixtape also paints a picture of Vezzo's flex-heavy present in songs like the recent single "Tear The Club Up" ft. Future (over 3 million YouTube views) and the Three 6 Mafia-sampling "Sippin" ft. Babyface Ray. Featuring additional appearances from Moneybagg Yo, Rio Da Yung OG, RMR, and more, Rich Off Pints 2 is available everywhere via Iced Up Records.
ROP 2 arrives in the wake of "Know The Difference," Vezzo's new collaboration with Lil Baby. A dramatic anthem for the flexers, "Know The Difference" gets its power from the contrasting styles of the two emcees–Baby hops out of the speakers with his melodic triplets, while Vezzo dabbles with auto-tune and delivers words of wisdom without elevating his heart rate. With over 2 million views on its YouTube video and with praise from The New York Times, "Know The Difference" is the latest in a line of high profile collaborations for Vezzo, following "Tear The Club Up," "Up The Scoe" ft. Lil Durk (over 13.6 million YouTube views), and "Plastic," Vezzo's appearance on Lil Yachty's Michigan Boy Boat project.
The new mixtape is the second in a series, quickly following Rich Off Pints, which came out this summer. Rich Off Pints is home to introspective highlights like "Still With Me" ("Used to have sh*t to live for, now I have plenty reasons," spits Vezzo on the track), and hard-hitting bangers like "Choppy Talk" and "Kobe Bryant" ft. EST Gee. The 16-track effort charted on the Billboard Heatseekers chart, and helped propel the artist to #9 on Rolling Stone's Breakthrough 25. With additional appearances from respected names like Trippie Redd, Lil Yachty, Dreezy, BIG 30, and more, Rich Off Pints tells Vezzo's story while paying tribute to a Detroit scene he helped foster.
Stay tuned for much more from the prolific rapper and entrepreneur as 2021 moves along.
Buy/Stream Rich Off Pints 2: https://foundation-media.ffm.to/richoffpints2
Tap in with Icewear Vezzo: https://linktr.ee/IcewearVezzo
© 2021, Seth "Digital Crates" Barmash. All rights reserved.