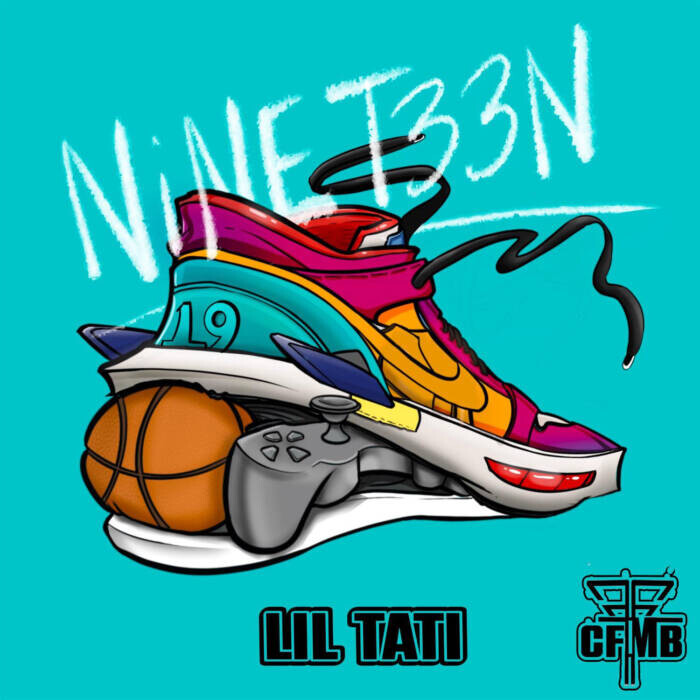 Finding the perfect balance of flirty R&B instrumentals and booming bass beats, Lil Tati aims to be the newest artist to blow up out of Miami. Now ready for his breakout moment, Tati shares NiNET33N, his new 10-track project, available everywhere via CFMB Records. The album's title comes from its significance in Tati's life such as Tati's current age and the age Tati's father was when Tati was born. Leaving behind his childhood love of basketball and video games, NiNET33N stands as a statement of growth for the 19-year-old as Tati says, "I feel like I'm growing up now and my project is proof of that." Tati is also paving the way for the next chapter in Carbon Fiber Music's legacy, as the first artist signed to the label's English-speaking arm, CFMB Records.
The new album is home to Tati's recently released, flirty video single, "Up Late," which featured a guest appearance from dancehall legend Mavado. Further demonstrating his versatility, Tati is joined by New York Drill rapper CJ on the cut "Came Up," as their two voices perfectly meld over the heavy drill beats. Tati shines solo on the banger "Blah Blah Blah," making sure to send the message that he's done with toxic relationships, singing: "I hate when I talk and you don't listen / I hate when you act like you know everything." Continuing to roll out the red carpet of guest appearances, Carbon Fiber co-founder Farruko comes through to provide a Spanish verse on the radio-ready banger "She Got It." Speaking on his creative vision for NiNET33N, Tati said "I like to describe NiNET33N as ten songs with all different sounds. Not everybody likes rap, and not everybody likes R&B, so I'm just giving you everything."
Music has always dominated Tati's life, before he was even making it himself. He watched his father, Frank Miami, go from cutting hair at a barbershop to managing then-bubbling acts Farruko and Lary Over to later forming Carbon Fiber Music in 2014. The label is a Latin music powerhouse, home to the aforementioned acts, along with a number of heavy-hitting artists and producers. While it's inevitably a new era for Carbon Fiber Music as it extends its English-speaking-focused Billionaire arm, it's a new era for Lil Tati as well. He is an extension of a legacy that has been cultivated over the last decade, only now he is a part of it on his own terms with his own sound.
In an exclusive interview with HipHopSince1987, Lil Tati talks to Digital Crates about jump-starting his career in music. He is new to the game but has extremely high-quality music and visuals to match his versatile sound. He performs melodic raps over a variety of beats with a sound that is unique and different from other Florida-based artists.
He talks about developing his sound and balancing his time making music, working out, doing social media, and living life. His new album Ninet33n is a solid project that reflects his dedicated work ethic. He has been jumping over hurdles getting his career going but stays motivated by having people in his corner with his best interest at heart.
His process has evolved from rapping over youtube beats to having original production from legends such as Ronny J. He now has graduated to doing songs with high-profile features from artists such as Farruko, Mavado, and CJ. His new album is well-rounded and radio-ready. Look for more videos and music to drop soon as well as performances and features.
With NiNET33N, Lil Tati looks to make a name for himself as the stars are aligned for this undeniable talent, and he's only just getting started. Stay tuned for much more.
Buy/Stream NiNET33N: https://liltati.lnk.to/ninet33nan
© 2021, Seth Barmash. All rights reserved.