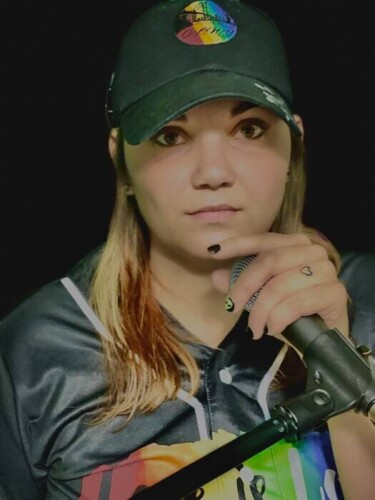 1. What first got you into music?
Music is a part if me. It's like breathing. Mama said I was singing and dancing before I was talking and walking. The deal was though, if I got my degree I could pursue whatever I want. So I got my degree and now my parents are my biggest supporters. My dad bought me my first MacBook Pro which is where I started with GarageBand. After shortly realizing I'm not patient enough to produce and too deaf to mix I branched out and started networking. Now music is just part of who I am and what I do.
2. How would you describe the music that you typically create?
I don't really think I can be boxed into any one genre. I create rap, hip hop, pop, and even a little R&B. If I were to label myself, I'd simply say I'm a Hip Pop artist.
3. What is your creative process? 
My creative process isn't really a process. Sometimes a word or a sound will trigger a verse. Sometimes just hearing a beat will get the juices flowing. I have several notebooks with lines, verses and even full songs written dating all the way back to high school.
4. Who would you most like to collaborate with?
I am aiming to work with Missy Elliott as my number one choice collab. I've been in love with her music, her music videos, and her since I was maybe 8 or 9. I was absolutely enamored by her, Aaliyah and Timbaland. I'm also currently obsessed with RUSS and actually have a song I absolutely won't release unless he gets on it. I'm committed. I also really want to work with Kehlani. I think she's a beautiful soul with a beautiful mind and an incredible voice. Lastly I'd love to collab with Justin Bieber. I think he's so pure and incredibly brilliant where music is concerned. These four are not only my favorite artists but also artists I believe I could learn from and grow with.
5. What is one message you would give to your fans?
The most important message I want anyone to receive from me is to simply be yourself, love yourself and embrace everything about yourself. Remember that you're perfectly imperfect and that is what makes you unique, beautiful and YOU! Don't change for anyone or anything. Don't be someone you're not because you want to blend in or because you think you'll get ahead. Put in the work, the time, the effort and be patient.
6. Do you sing in the shower? What songs?
Absolutely! I don't really have any go to songs. It kind of just depends on my moods. If I'm preparing to record it'll be the song I plan to record. If it's close to show time, it'll be my set. If I'm sad it's usually Stay With Me by Sam Smith, Iris by The Goo Goo Dolls, Nights Like This by Kehlani, All To You by Russ. If I'm happy it's usually Work From Home by Fifth Harmony, Stand By Me by Ben E. King, Valerie (the Glee version) or Baby by Justin Bieber. It just really depends.
7. Where have you performed? What are your favourite and least favourite venues? Do you have any upcoming shows?
I have only had the opportunity to perform 4 times thanks to covid. The first show was at the Ridglea Theater in Fort Worth. The next two performances were at The Haltom Theater in Haltom City. Then I had the amazing opportunity to perform at the Gainesville, TX very first Pride event at the Cab Station Market. My favorite venue was The Haltom Theater because it was a real stage and had a lot of room to move around. I don't have a least favorite because I'm grateful to perform any chance I can. I'm currently working on lining up consistent shows starting 2022.
8. How do you feel the Internet has impacted the music business?
I believe it's made the music industry a totally different ball game. Now artists can go viral on TikTok and kickstart their career or at the very least have a huge hit. There's also Instagram and Facebook live that allows for live performing as well as new platforms like Sessionslive where you can make money to perform live. So I believe it's beneficial and not enough artists are taking advantage of it, but the ones who are are seeing results.
9. If you could change anything about the industry, what would it be?
If I could change anything about the industry I'd make it  less about aesthetics and more about the talent. It'd be less about the labels profiting and the artists having lucrative careers that don't depend strictly on shows and merch sales to get paid. It would be more female, LGBTQ+ and POC friendly.
10. What's next for you?
I am currently working on a mental health ep. It's a 6 track ep that goes through the rollercoaster in life that is mental health. It's literally a journey. I'm super excited to wrap up the recording and get these mixes finalized. I intend to have a release party that will give a percentage of the proceeds to Suicide Prevention. I'm a huge mental health advocate and this is super important to me so I want to do my best to help push information, help prevent further loss and just be a shoulder and a voice for others.
© 2021, alanna. All rights reserved.