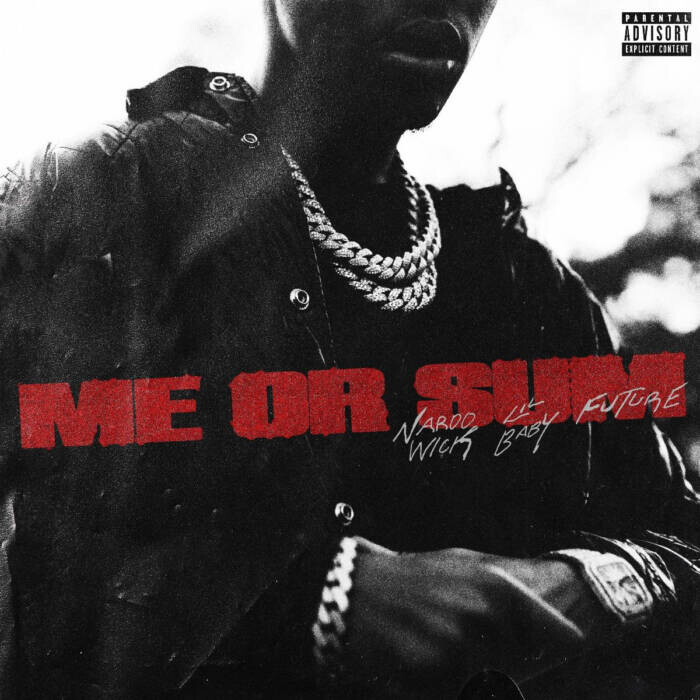 Nardo Wick has just released his newest single "Me or Sum" featuring 2 of Atlanta's biggest icons: Future and Lil Baby. The track finds Nardo tapping into the raw talent his fans adore him for and his flair for high-end collaborations. The song shows Nardo, Future, & Baby sparring about their romantic partners thinking they are "Me or Sum" from just a taste of their luxurious lifestyles. Future flows fluidly over a warm melodic chords, bringing out the soulful sounds he can tap into at any moment. Then, once you think you've figured out the vibe of the record, it flips in an instant. A dark bass-line and strong hi-hats come rushing in and then, Nardo has a stand-out moment. His verse exhibits the depths of his sheer rapping ability––with him constantly balancing between being clever and concise in his quick-witted bars. The whole verse is full of quotables, a speciality of Nardo's, with the crown jewel being "I think I'm a lover boy/ sing to your b**** like El-vis". In a song with two of music's biggest names featured, the spotlight shines on Nardo with this neck-snapping bars and intense delivery. Then, to top it all off, Lil Baby hops on the track, bringing with him his unceasing flow and fashionable raps about buying multiple Birkins. "Me or Sum" is a perfect follow-up to the smash hit "Who Want Smoke?" and its subsequent updated version featuring verses from Lil Durk, 21 Savage and G Herbo which has garnered over 90 million streams across platforms and debuted at #17 on the Billboard Hot 100 charts. With "Me or Sum", Nardo flexes his pure, unabridged artistry and only further solidified his place as hip-hop's nexts superstar. Now, on the heels of his breakthrough year, Nardo is announcing the 12/3 release date of his highly-anticipated debut album Who is Nardo Wick?.
Nardo Wick bursted onto the scene in mid-2020 with a string of releases, including "Lolli", "Slide", and "Came Up." Music gave the shy teen an outlet to channel his angst and was accompanied by a fast-following. Though he's soft-spoken off the mic, when Nardo enters the booth, the raps he produces are dynamic and haunting––a reflection of Jacksonville's turbulent hip-hop scene. Hit-producer Cardo Got Wings laced Nardo for a last-minute request to appear on February's Judas And The Black Messiah: The Inspired Album. That album topped the charts upon release, putting Nardo Wick alongside the biggest stars of Hip-Hop and R&B In 2021, Wick transitioned from making buzzing records to inescapable anthems. "Who Want Smoke?" became a widespread hit, achieving over 60 million streams as well as placements on Rap Caviar and Hip Hop Hits. The song reflected a menacing teen with a no-nonsense approach to life and music balancing between being captivating and fearsome. Wick followed this with the Nick Mira-produced "Pull Up" in July. In August, Nardo released "I Be Chillin", an exciting addition to his growing discography. Then in October, after "Who Want Smoke?" initial explosion, Nardo delivered a new rendition of "Who Want Smoke??" featuring hip-hop's Avengers: Lil Durk, 21 Savage and G Herbo. Not only did Nardo add that star-studded lineup to the hit, but the music video was handled by none other than Cole Bennett and Lyrical Lemonade. Between the remarkable features and cinematic visuals, Nardo set himself up for a certifiable hit––debuting at #17 on the Billboard Hot 100. "Who Want Smoke??" has become frequent soundtrack to viral content on social media, with the most recent inclusion being Florida A&M's marching band, the Marching 100, doing a live-rendition of the hit song during the halftime show for their game against Alabama State University.Throughout the run, the budding rapper has received praise from Passion of the Weiss, Lyrical Lemonade, and DJ Booth, who included him in a recent "10 Rappers You Should Know Right Now" list. Recently COMPLEX named Nardo among their list of "Best Jacksonville Rappers."
© 2021, Seth Barmash. All rights reserved.