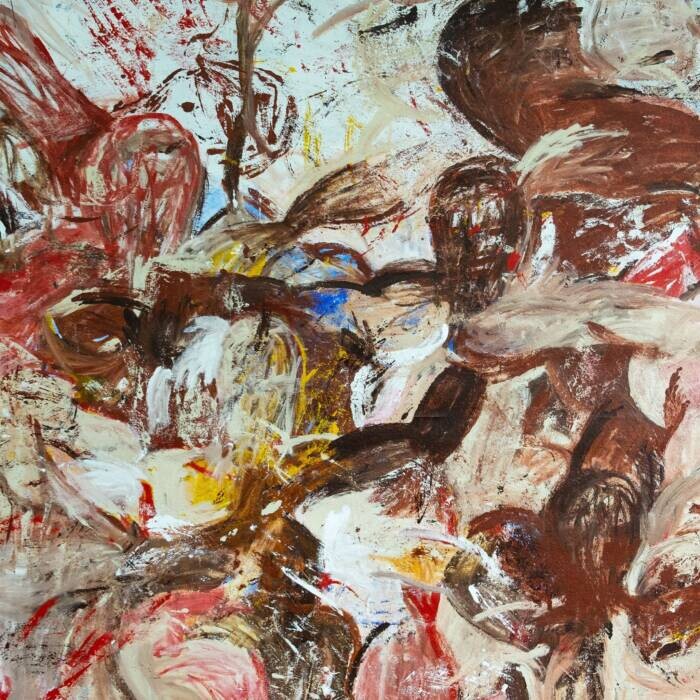 Aurora Anthony has stirred up major buzz as New York's next rapper, fashion muse, and multi-hyphenate to watch. Now the Lower East Side native shares a piece of his lifestyle on his debut album TUNDE paired with a riveting short film.
Stream TUNDE here in partnership with Heavy House.
The debut album TUNDE is composed of 10 tracks and no features allowing Aurora Anthony's signature gruff baritone to reach new levels all on its own. The album title, which means "Return of the Father" in Yoruba, is an ode to Aurora's Nigerian heritage and especially his father. He raised Aurora in New York City's Lower East Side, one of the city's often-overlooked neighborhoods, which Aurora references and reps repeatedly in his music and visuals. A diverse but cohesive body of work, the album is the perfect introduction to Aurora's world, which is exactly that.
Paving the way for the short film, Aurora has released three critically acclaimed singles and videos, "Cartier," "Terracotta," and "Lil Wolfy." Each video illustrates a part of the story building up to this longer 12-minute masterpiece. In the short film, Aurora is the champion of New York's underground. Intercut with his signature wolf imagery, Aurora is broken down then built back up to take his thrown as he sends a message, continue to fight until you win. It was important for Aurora to keep the visual in black and white so viewers can focus on his autobiographical lyricism and cerebral visuals.
Aurora's talents and interests are beautifully conveyed throughout TUNDE. It spans the sentimental "Tulips" ("I just want my father to see me make it") to the passion inspired "Sylvester" ("I can't be myself without you / Baby you control my heart / I think you're manipulative / Baby it's a work of art") and the fashion-heavy anthem "Magic," ("Baby I'm magic, the n*****s you into ain't lasting, ain't got enough passion, the sh*t tragic / He probably out there wearing Geobaskets, probably Raf Simmons 3 strapping, the sh*t tragic").
See the full tracklist below.
For TUNDE, Aurora tapped his close friend Reginald Sylvester II to create an original painting for the cover art. This dynamic pair collaborating lends to Aurora's creative foresight as a tastemaker in New York's art scene. Reginald Sylvester II is a critically acclaimed American artist that has received praise from Artsy, OFFICE Magazine, Hypebeast, HighSnobiety, and more. In his large-scale canvases which are currently on display in London at Maximillian William gallery, his figures emerge from more abstract brushwork.
TUNDE is Aurora Anthony's specially-curated art project representing all sides of his lifestyle and Sylvester's cover art captures that story exquisitely. Get lost in the smooth sounds of Aurora Anthony as he continues to invite listeners deeper into his world. TUNDE is out in partnership with Heavy House by Jason Geter who remarkably discovered Travis Scott and T.I.
More About Aurora Anthony
Ask Aurora Anthony what he does and he'll answer "art." If he's not recording music, designing clothing, bombing graffiti, or making plush toys and 3D-printed chrome sculptures, he's being tapped by brands like Nike, Jordan, New Balance, and Ray-Ban to bring them what every brand is looking for: a stamp of approval from New York City's "cool" kid. Put simply, he's the influencer's influencer; from his lifestyle company 100 WOLVES hitting Beyonce's 2020 list of Top Black-owned Brands to Follow, catwalks at Paris Fashion Week, billboards for Guess Brand, and model spreads in Vanity Fair, Financial Times, and Elle Magazine. Coupled with two international tours with the late Chynna Rogers, this cult-like following has garnered him independent streaming success, like "Field Trip," which Future heard and hopped on, and "Broncos," which released over the 2020 pandemic and now has over 1M Spotify streams. Let Aurora Anthony's debut album TUNDE mark his arrival and what's taken him to get here – getting lit off being himself and doing it himself, while trying to make his father proud.
TUNDE Tracklist:
19

LIL WOLFY

CARTIER

MAGIC

TERRACOTTA

SYLVESTER

BRONCOS

ELEVATED

CHROME HEARTS

TULIPS
© 2021, Seth "Digital Crates" Barmash. All rights reserved.