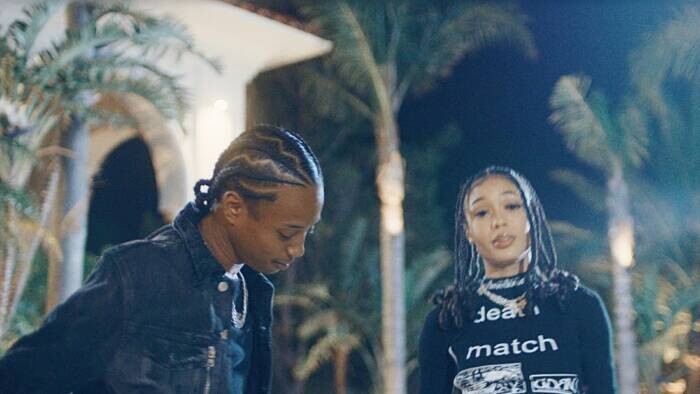 Hailing from Toronto's Driftwood neighborhood, 25-year-old rapper Pressa is a rising star on both sides of the border. Retreating to a remote estate, Pressa shares the official video for his sizzling hot new single "Attachments" ft. Coi Leray. Certified Gold in Canada after its release on the December 2020 Gardner Express EP, "Attachments" is an intriguing and melodic mix of harrowing and uplifting, as Pressa describes his experiences growing up in the trenches and Coi triumphantly sings about the success that awaits those who can make it out. Directed by Coco, a frequent collaborator of Pressa's who recently worked with Pressa on Gardner Express: The Official Film, the new video finds Pressa and Coi Leray in a game of cat and mouse, as Coi manipulates elements of nature to ensnare Pressa before the two rappers join forces at the video's end.
With a title that references Pressa's last name (Gardner) and the Gardiner Expressway, a major highway running through the downtown core of his hometown, Gardner Express is home to multiple high profile collaborations, including"Head Tap" featuring Brooklyn drill rappers, Sheff G and Sleepy Hallow (7.5+ million combined streams) and "Blackberry Zap" ft. Jackboy (7.8+ million combined streams). The EP features additional appearances from Flipp Dinero, D Block Europe and Taliban Glizzy. With over 46 million combined global streams across platforms and coverage in outlets like Complex,HotNewHipHop, and Apple Music 1 w/ Ebro Darden, Gardner Express is a deeply personal, speaker-knocking project from one of the hottest emcees north of the border.
In February, Pressa shared a creative concert film that showcased the music of Gardner Express. Stay tuned for much more from the buzzing young emcee in the coming weeks and months, including more high profile collaborations and music videos.
Watch "Attachments" ft. Coi Leray: https://www.youtube.com/watch?v=ZxGYS11DIdM
Buy/Stream "Attachments" ft. Coi Leray: https://smarturl.it/Attachments_PxCL
Buy/Stream Gardner Express: https://smarturl.it/Pressa_TGE_EP
© 2021, Seth Barmash. All rights reserved.