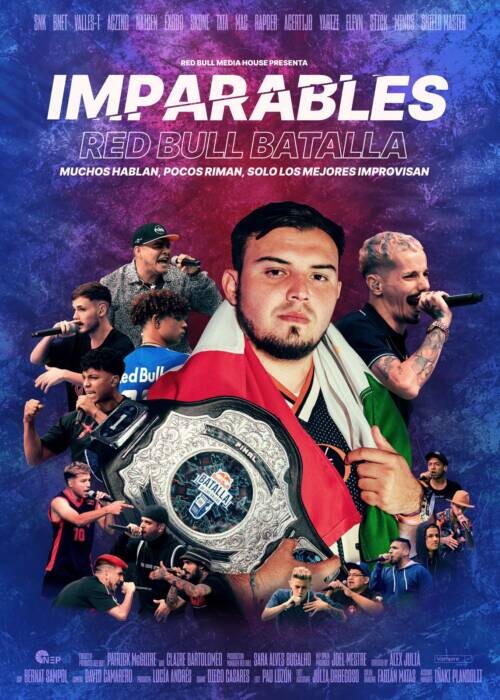 Red Bull is excited to announce the release of Imparables: Red Bull Batalla, a documentary that takes viewers inside the 2020 Red Bull Batalla competition leading up to the World Final on December 12, 2020.
The documentary follows the Spanish-speaking world's best freestyle rappers as they prepare for the international final. It provides a behind-the-scenes look at their lives and relationships between the MCs as they balance the heat of the competition with the respect they have for each other. The film's protagonist is Rapder, who hails from Mexico. He beat the reigning champ to take the 2020 World Champion.
The film provides an intimate portrait of how the MCs and the crew working on the event overcame the unprecedented obstacles of 2020. From creating and living in an NBA-style "bubble," to using an augmented reality technology to film the audience-free final that in other years would normally host upwards of fourteen-thousand fans. It shows the determination from all to pull-off the most-watched live music event of the year (source), which garnered more than 15.8 million views.
Now celebrating its 15th anniversary, Red Bull Batalla is the biggest Spanish language freestyle competition in the world. The documentary tells the story of its climactic final and the unstoppable personalities behind it.
Red Bull Batalla is a global freestyle rap competition that, since 2005, has provided a platform for the best hip hop improvisors in the Spanish world to connect, develop and compete. Within the last few years, the Red Bull founded project has become the world's biggest international freestyle battle competition, uniting Spanish Latin America and Spain.
The roots of this improvised rap scene are as deeply connected to hip hop as they are to the improvisation styles of traditional folk troubadours. It has evolved into a style completely distinct from that of hip hop in North America.
With Red Bull Batalla, Red Bull gives an opportunity for young MCs to train, perform and improve their improvisation and rapping skills.
https://www.redbull.com/int-en/films/imparables-red-bull-batalla
© 2021, Seth Barmash. All rights reserved.