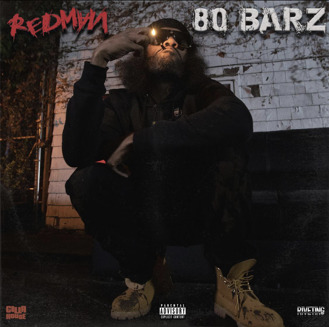 Rap icon and Grammy Award-nominated heavyweight Redman is approaching the eve of what is sure to be one of the most classic Verzuz shows (vs Method Man) to date, and to celebrate these times, the lyricist, who continues his partnership with RIV MUSIC, dropped a brand new track, "80 Barz." To take things a giant step further, Redman also announced a summer release of his highly anticipated studio album Muddy Waters 2.  
"Collaborating with RIV MUSIC doesn't feel like a partnership. It's definitely a family at this point. I can appreciate that they understand hip hop, the authenticity of it, quality control, and most importantly that they are fans of it. They know their stuff and it felt right jumping back with not just this track that I've briefly been sitting on, but Muddy Waters 2 as well." – Redman
"80 Barz" highlights the rapper's unique style and edgy sound reminding us why he has always been a fan favorite. Referencing to his deep roots in the industry while connecting to today's trends, the track showcases the hip hop legend's undeniable talent. The first highly praised Muddy Waters album released in 1996 and debuted at an impressive #12 on the Billboard 200 chart and #1 on the US Top R&B/Hip Hop Albums chart. The certified Gold project gave fans hit singles "Whateva Man," "It's Like That (My Big Brother)," and "Do What You Feel" which appeared on the soundtrack for the infamous Grand Theft Auto: Liberty City Stories video game.
Music lovers can catch the Redman v Method Man Verzuz battle this Tuesday, 4/20 at 5:00 PM PST/ 8:00 PM EST on Triller or @VerzuzTV Instagram.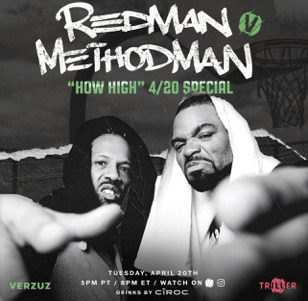 Rising to fame in the hip hop world during the early 1990's and being known as one of the industry's most beloved rappers, Redman takes 2021 by storm with his latest single "80 Barz," an iconic Verzuz battle with Method Man and the announcement of his highly anticipated studio album Muddy Waters 2 for the summer. Born and raised in Newark, New Jersey, the Grammy Award-nominated rapper, actor and producer first stepped into the scene on EMPD's 1990 album Business as Usual and later launched his solo career with his debut album Whut? Thee Album in 1992. Solidifying his name as one of the greats, Redman has released hit projects  Dare Iz a Darkside (1994), Muddy Waters (1996), and Doc's da Name (1999), which have all gone gold in the U.S.  as well as charted on Billboard 200. Releasing multiple albums during the 2000's and partnering up with long time friend Method Man, Redman broke onto the big screen starring in the films film How High, Seed of Chucky, Fox television show Method and Red and more. The multi-talented lyricist also became the television host of VH1's Scared Famous. Now the rapper plans on delivering his 9th studio album later this year, along with a new partnership with RIV Music.
Redman Socials:
Instagram: @redmangilla
Twitter: @therealredman
© 2021, Seth "Digital Crates" Barmash. All rights reserved.