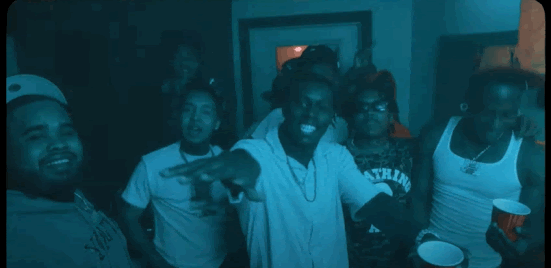 Tearing up the block with their street stories and function anthems, Rucci & AzChike are a match made in L.A. Rap heaven. For the latest music video from their first-ever collaborative album Kourtesy of Us, Chike and Rucci connected with Haiti Babii for the music video for album highlight "After Party." The track is more a celebration of the California natives' come ups than what one might expect from a song titled "After Party." With the trio rapping in unison, "Just be yourself my n**** / Just focus on your wealth, my n****," to close out the song, "After Party" is for raising a glass to the ones that have been along for the ride. In the Stacking Memories directed video, Rucci, Chike and Haiti Babii host a low-key studio after party with LA baddies and their closest associates.
Joining forces for their first-ever collaborative album, Chike and Rucci released Kourtesy Of Us on Friday, October 8th via Mackk&Cult / EMPIRE. The 21-track album is home to recent singles like the slinking, piano-laden "My N****s," and the gleefully inappropriate "Hoodrat," featuring a guest spot from Boosie BadAzz. Packed with production from maestros like Cypress Moreno, AceTheFace, Hitman, Rob Vicious, Bruce24k, and more, Kourtesy Of Us is an expansive survey of West Coast sounds, from the dramatic bass & piano lusciousness of "No Time," to the swirling synths and insistent 808s of "Get Back Gang," the pizzicato strut of "Fasho Poppin," and the luxurious electric keys of "Thug P*ssy." Throughout, Chike and Rucci remain quotable, ping-ponging verses as they demonstrate why they're among their city's elite. Rucci attacks the beat with a breakneck, snapping flow, while Chike's oblique delivery finds hidden pockets in instrumentals, helping his disrespectful punchlines stand out. Featuring appearances from Kamaiyah, Boosie Badazz, Haiti Babii, Capolow, Kalan.FrFr, and many more, Kourtesy Of Us is available everywhere via Mackk&Cult/EMPIRE.
Prior to Kourtesy Of Us, Rucci and AzChike hit the streets with a line of fiery collaborations, built over a number of years. The two rappers connected with Capolow for "No Kizzy," a Bay-meets-L.A. banger, took aim at steppers on "Who Dat," and earlier, they honed their chemistry with the rip-roaring "Pop Pills." They're renowned in the streets of L.A. for creating multiple local hits, most notably 2020's "Function In The Hood" and 2018's "Light It Up." Both artists are continuing the momentum from big 2020s–Rucci continued to explore his fascinating backstory with the Midget album, featuring the hit single "Understand" ft. Blxst, and AzChike kept busy with hard-hitting EPs and collaborations with the likes of Sada Baby and Frostydasnowmann.
Finally joining forces for the joint album that L.A. needs, Rucci and AzChike happily gifted their fans and their city with a new set of slaps. Join AzChike and Rucci at the official Kourtesy Of Us release show at The Fonda Theatre in Los Angeles on November 14th: https://www.axs.com/events/414195/rucci-x-azchike-tickets
Watch "After Party" ft. Haiti Babii: https://youtu.be/JFEXqt-wz8Q
Kourtesy Of Us: https://music.empi.re/kourtesyofus
© 2021, Seth Barmash. All rights reserved.