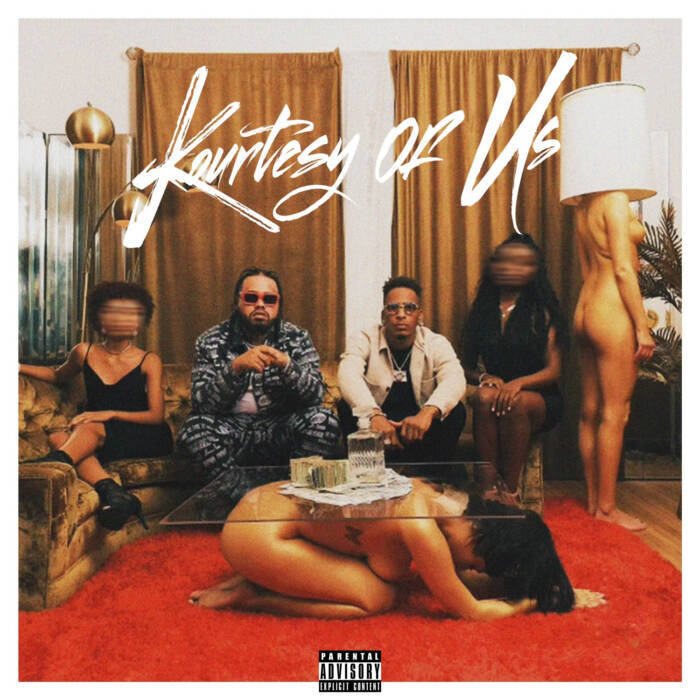 With disrespectful bars, Rucci and AzChike specialize in crafting bangers for hood functions. Today, the Los Angeles duo reveals the tracklist and release date for their first-ever collab album Kourtesy Of Us, coming for your neck on October 8th. Like any hall of fame-worthy duo, the interplay between Rucci and AzChike is a study in contrasts–Rucci attacks the beat with a breakneck, snapping flow, while Chike's oblique delivery finds hidden pockets in instrumentals, helping his disrespectful punchlines stand out. Both emcees are united by their willingness to say absolutely anything on the mic, whether they're stacking outrageous flexes or elucidating details of their chaotic pasts. Featuring production from L.A. maestros like Cypress Moreno, AceTheFace, Hitman, Bruce24k, and more, and guest spots from Kamaiyah, Boosie Badazz, Haiti Babii, Capolow, and many more, Kourtesy Of Us is available for pre-save/pre-order via Mackk&Cult/EMPIRE.
Along with the announcement, Rucci & AzChike share "My N****s," a piano-led banger from the upcoming album. Buoyed by AzChike's addictive hook and a plinking piano melody from producer Fortwoe, "My N****s" is a slinky slapper, its off-kilter bounce offering an ideal cadence for each rapper to "rock out like KISS." The song arrives with a fun-loving video, packed with homies from South L.A. and Inglewood. Rucci takes the time to school fools on the basketball court, while Chike gets his Mozart on, playing the piano while beautiful women dance on top. "My N****s" follows the recent video for "Hoodrat" ft. Boosie Badazz, AzSwaye & Pjay.
"Hoodrat" is the latest in a line of fiery collaborations between AzChike and Rucci to hit the streets this year. The two rappers connected with Capolow for "No Kizzy," a Bay-meets-L.A. banger, took aim at steppers on "Who Dat," and earlier, they honed their chemistry with the rip-roaring "Pop Pills." They're renowned in the streets of L.A. for creating multiple local hits, most notably 2020's "Function In The Hood" and 2018's "Light It Up." Both artists are continuing the momentum from big 2020s–Rucci continued to explore his fascinating backstory with the Midget album, featuring the hit single "Understand" ft. Blxst, and AzChike kept busy with hard-hitting EPs and collaborations with the likes of Sada Baby and Frostydasnowmann.
Finally joining forces for the joint album that L.A. needs, Rucci and AzChike prepare to gift their fans and their city with a new set of slaps. Stay tuned for more music, coming very soon.
Pre-order Kourtesy Of Us: https://music.empi.re/kourtesyofus
Watch "My N****s": https://www.youtube.com/watch?v=E-E-EC3Nn4I
Buy/Stream "My N****s" HERE
Kourtesy Of Us tracklist:
Fasho Poppin ft. Cypress Moreno
Give It Up
Check It
Hoodrat ft. AzSwaye & Pjay
My N****s
Depend On Me ft. Cypress Moreno
Trust
Celebration ft. Kamaiyah
After Party ft. Haiti Babii
Bangel ft. Lil' Deuce
Money On Me ft. Kalan.FrFr
No Time ft. Capolow
Thug P*ssy ft. Su'Lan
Kourtesy Of Us
Word Around Town
Ambush
Get Back Gang
What We Talkin Bout ft. AzSwaye
Church
Dive In The Water ft. AzSwaye
Hoodraft ft. Boosie Badazz, AzSwaye & Pjay
© 2021, Seth Barmash. All rights reserved.