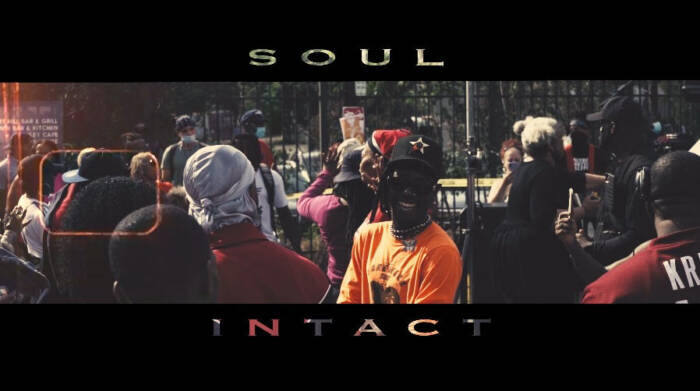 Hailing from two rival areas of Boston, Daniel Laurent and Rocklyn's journey to "Black Dollar", has been a unique one. The two who hail from the Dorchester and Roxbury areas of Boston met almost 2 decades ago on the set of a hip hop commercial. Each landed a role and the result has been a friendship that has culminated in the creation of the rap duo "Black Dollar".      
With a vision to deliver something more than just music to their community the team tapped Grammy Nominated singer Cyrus Deshield to grace the debut single "Soul Intact". The song and video are based on the idea of communal economic support. This idea of people within a community working to support each other's businesses economically has been instrumental in some Asian, European, and other ethnic groups within America to help their people grow out of the depths of poverty. This idea is also the idea behind the naming of the group "Black Dollar".
The single "Soul Intact" will certainly make one think. The song is packed with bars, words, and thoughts that are so often missing from today's hip-hop. The beat was produced by Ziti and Scrilla Fulcanelli. Both producers have several A-list artists they have produced records for and the duo doesn't miss there either. The track has a melodic but zany whip that runs throughout that will for sure have heads nodding and a bass and string pattern that makes for a fire platform for the 3 artists to deliver their knowledge. 
Cyrus Deshield leads the track off with Bars we didn't know the well-regarded singer had in him. He speaks his mind riding the beat in a unique pattern that allows him to fit large words into short gaps perfectly. The singer then delivers again on a strong hook that has a catch 4 bar finale of "Soul Intact" to cement the importance of the concept of the single and movement.   Daniel Laurent & Rocklyn both deliver bars that leave the listener thinking and repeating the carefully crafted lyrics that they just ingested.    The duo plan on big things in the next few months starting with the release of the video accompanying the audio which is available everywhere via Black Dollar and United Masters.
Click the link here to listen on any music player: https://blackdollar.lsnto.me/3drmEyT
Lyric Video: https://music.youtube.com/watch?v=K9FFF7YnfT4&feature=share
© 2021, Seth "Digital Crates" Barmash. All rights reserved.