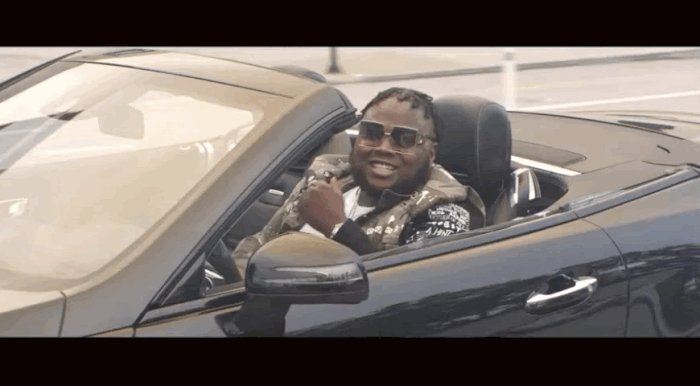 A master of melody who pours his heart and soul into his music, T-Rell proudly puts his hometown of Topeka, Kansas on his back. Taking a trip down memory lane as he explores his path to the top, T-Rell shares "Medusa," his new video. Flashing his golden pipes atop a spectral guitar-driven beat, T-Rell takes a detailed look at his rise to success, reflecting on how his childhood prepared him for success and how his stone cold determination helped him reach legend status in his city and beyond: "I'm in no competition, in a lane of my own/My opposition mad I made it I did it on my own/I been bussin' features, made a hunnid thousand on this phone."
In the video, Rell hops in his shiny Mercedes Benz and drives around Omaha, NE, a neglected midwestern metro similar to his hometown of Topeka. His foreign car and his stacks of cash illustrate just how far he's come, from a city with miniscule music industry presence to the top of the independent rap game. Complete with an introductory manifesto from Bigga Rankin, "Medusa" is the opening track from 2 Big 2 Ignore, Rell's latest album, which peaked at #1 on the iTunes sales chart upon release late last month.
Doing double duty as a treat for loyal listeners and a solid entry point for new listeners, 2 Big 2 Ignore supplements the emotional anthems for which he's known with hard-nosed street tales and bangers for the club, like the recent single "Slide" ft. Fredo Bang. With his new album, T-Rell takes aim at those who doubted him, delivering a 16-track opus that loudly announces his status as a force to be reckoned with in the midwest and beyond. Though it doesn't shy away from the pain music that T-Rell made his name on, as it pays tribute to Rell's late friends like his manager 8-Ball and his close friend Mo3, the album leaves plenty of room for pleasure as well. Featuring appearances from Jackboy on the recent video  "Fly Away," Young Dro, Bigga Rankin, and more, 2 Big 2 Ignore is available everywhere via TRM / Winners Only / EMPIRE.
Determined to become a successful artist since he was a kid, T-Rell grew up loving rap and R&B, idolizing artists as disparate as Tyrese, Jamie Foxx, and Lil Boosie. His life changed forever after a catastrophic car accident that claimed the life of his brother and manager 8-Ball, an incident which inspired him to release "My Dawg," a massive regional hit and trickled into the national consciousness, eventually spawning a remix with Boosie and becoming part of the standard repertoire at memorial services. Five years later, T-Rell hasn't slowed down one bit. He released the album Rell Play earlier in 2021, and it quickly climbed to #1 on the iTunes R&B/Soul chart, #6 on the iTunes All Genres chart, and #69 on the Apple Music charts. T-Rell told his story his own way in "2 Big 2 Ignore," a new mini-documentary that explores the artist's unlikely rise and his history of altruism in his city and beyond.
Watch "Medusa": https://youtu.be/5HvOxA24zJg
Buy/Stream 2 Big 2 Ignore: https://music.empi.re/2big2ignore
Watch the "2 Big 2 Ignore" Mini-Doc: https://www.youtube.com/watch?v=KXP4tvkeR6c&t=1s
© 2021, Seth Barmash. All rights reserved.