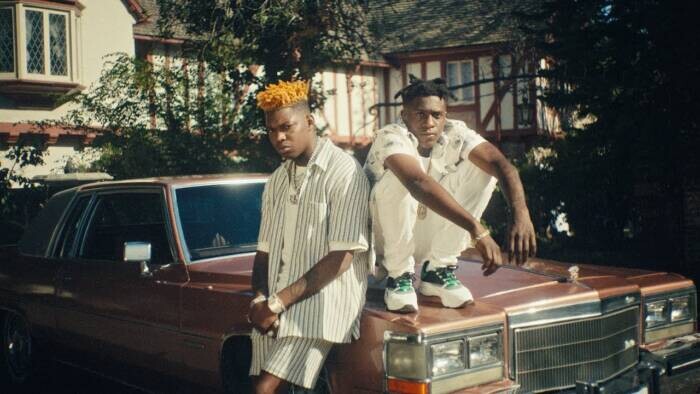 Taleban Dooda's nimble flow and honey-pure tenor have won him a large and growing fanbase in his native Tampa and beyond. Connecting with Yung Bleu for a romantic highlight from his debut album Fallen Angel, Dooda shares "More Than Average," his new music video. The song gets its power from the interplay between Dooda's verses and Bleu's smooth hook, both emcees touting their street bonafides as they discuss how they spoil their significant others. In the video, Dooda and Bleu kick back in a Gothic southern mansion with two beautiful women and boxframe muscle cars.
Released earlier this month, Fallen Angel finds the 19-year-old rapper examining his come-up and confronting his demons, probing all aspects of his psyche. Bursting with invention and earworm hooks, Fallen Angel gives a home to recently released highlights like "Chosen" ft. T9ine, a gospel-influenced anthem that earned praise and counts 3 million total streams, and  "Trappin Ain't Dead," the Helluva-produced Detroit-style anthem with a standout guest spot from 42 Dugg. Featuring additional appearances from Tory Lanez, OMB Peezy, and Dee Watkins, Fallen Angel is available to stream everywhere via Green Light Music Group/Rostrum Records.
Taleban Dooda has been steadily building a loyal fanbase over the past year, displaying a natural melodic ability that helps him stand out among street rappers in Florida and beyond. He scored street hits in the first half of the year with "Tru Colors" (included as a bonus cut on Fallen Angel, the song has over 3 million total streams) and "2 In Da Morning" (1 million views), and turned heads in the fall with standout singles like "Dis Dooda," which Vice named as one of the 24 Best Songs of September. Dooda recently told his story in a Noisey Next feature with Vice, touching on what it was like growing up in Tampa and his musical inspirations.
With Fallen Angel, Dooda takes his latest step towards establishing himself as a major player in the Southern scene. At just 19, and with tens of millions of streams in the bank, this is just the beginning.
Watch "More Than Average" ft. Yung Bleu: https://youtu.be/j21WLn6koiI
Buy/Stream Fallen Angel: http://smarturl.it/TDoodaFallenAngel
Fallen Angel tracklist:
1. Demon Time
2. Finish Him
3. Broken Soul
4. Chosen feat. T9ine
5. My Bruddas feat. OMB Peezy
6. Backwards
7. Heart Turned To Ice
8. Sinning
9. No Libs
10. More Than Average feat. Yung Bleu
11. Stay Dangerous feat. Dee Watkins
12. Trappin Ain't Dead feat. 42 Dugg
13. Dis Dooda
14. Ready For War
15. Chopstix II ft. Tory Lanez
16. Come Back Again
17. Tru Colors (Bonus)
© 2021, Seth Barmash. All rights reserved.