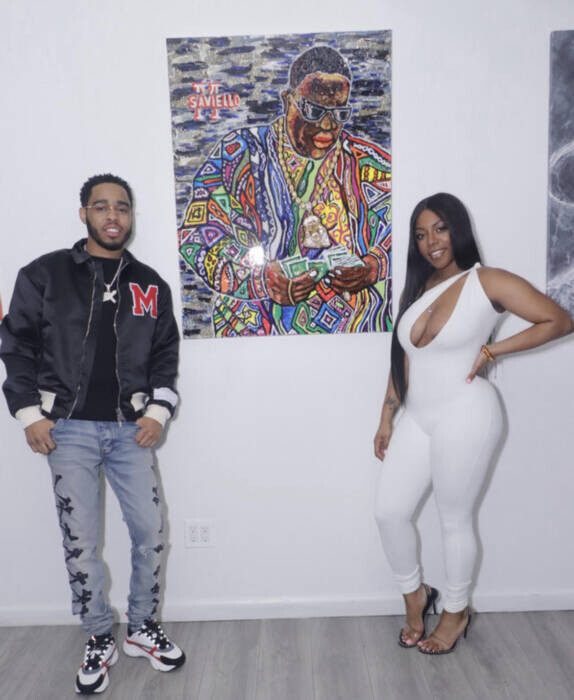 The world lost a treasure when Rock-N-Roll Hall of Fame Rapper, Christopher Wallace aka The Notorious B.I.G., was taken from us. However, founders – Ray Thompson of (Divided Right Entertainment) and his partner, Alissa Jones Schulters of (Bleu Entertainment) celebrated one of the greatest rappers of all time at their 4th Annual "THINK B.I.G. ART SHOW." It was held March 6th & 7th 2021, in the heart of Bedford Stuyvesant in Brooklyn, New York – the birthplace of the artist also known as Biggie. Fans are still raving about the moving tribute to the rapper through captivating artwork collected from artists throughout the nation. Thompson, the co-founder of the art show, was a true fan of the Notorious B.I.G. and wanted to give homage to the lyricist who inspired him as a kid.
The showings were a huge success although they had restrictions from the pandemic. To regulate the crowd flow, the showings were broken down into three (2 hour showings) each day. "We are happy about the turn out despite Covid-19," states Alissa Jones Schulters, partner for this artistic pop-up experience. Artists from Los Angeles to New York showcased their work in a moving tribute that had the press and the fans blown away by the realness of the images. This was a classy affair as fans took in the sounds of @MattViolinist, a featured poet – Smoovebabii.  They were also mesmerized by the "LIVE" art painting by JulesWrld777. It was a vibe as soon as people walked in the door. Nino Brown of Junior Mafia was among the notables who supported the event and its cause.Publicist Lynn Hobson admits, "The Notorious B.I.G was a lyrical genius who colored outside the lines. Promoters and the powers that be try to use the name of BIGGIE for their own benefit. However, this event was about the artists who tried to capture the true essence of who this iconic figure was to the world. Although the art that graced this venue was breathtaking, it couldn't touch the void that was left in the world after his death. This event will give a portion of the proceeds to the Christopher Wallace Foundation – whose purpose is to serve as a vehicle for giving back to the community. 'As a non-profit organization its primary target will be in the field of education. Where academics are concerned B.I.G. will be acronyms for: 'Books Instead of Guns'. As this event continues to grow, so will their commitment to give back to the cause as well."
© 2021, Seth "Digital Crates" Barmash. All rights reserved.