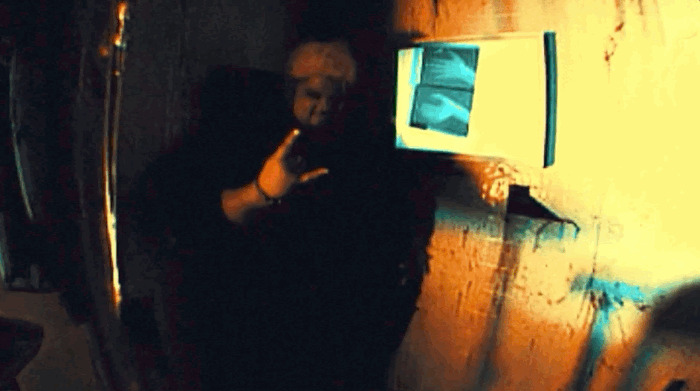 Fusing genres with dramatic vocals and theatrical intensity, Mario Judah brings a rock star attitude to the rap game. Squadding up with 19-year-old wunderkind Tes X for his most relentless headbanger to date, Mario Judah shares "It's Time To Rock." Produced by Nuri, "It's Time To Rock" is purpose-built for arena speakers, bringing distorted guitar, speaker-obliterating bass, and ominous pianos that add to the menacing atmosphere. Mario and Tes X prove to be ideal collaborators, Tes X's delicate tenor providing a perfect complement to Mario's operatic bombast. "It's Time To Rock" earned a live radio premiere last night by DJ Kevan Kenney on NYC's Alt 92.3FM.
Directed by JMP, the video for "It's Time To Rock" continues the macabre aesthetic Mario has developed, taking place in an abandoned mental institution with blood spattered on the padded walls. Both artists add to the disquieting atmosphere with their committed performances: Mario lashes out with manic abandon, while Tes X's more subdued demeanor conceals a psyche ready to snap at a moment's notice. "It's Time To Rock" is Mario Judah's second video in two weeks, following the bass-boosted anti-love song "I Cannot Love You" (over 1 million streams across platforms).
Starting his career as a producer, Mario Judah didn't consider becoming a vocalist until the beginning of the pandemic. Influenced by the gritty subject matter of rap music and the vocal styles of metal and hard rock, Mario arrived on a singular sound with his first single "Crush," which brought a gothic and melodramatic majesty to melodic rap. He trended worldwide in October 2020 when he released his song "Die Very Rough," a bombastic and insidiously catchy story of revenge, which went viral on Twitter, YouTube, and TikTok.
"Die Very Rough" racked up over 40 million streams and spent three weeks atop Spotify's Viral 50 chart. The rapper recently recorded a Genius Verified for "Die Very Rough," which trended on YouTube and surpassed one million views in less than a week. The song inspired an entire universe of memes (one of Mario's favorites compared his rap style to that of a Disney villain) and earned the Florida native the chance to perform his first-ever live set at Rolling Loud's "Loud Stream," which aired on Twitch to an audience of 1.5+ million. In December, Mario shared Whole Lotta Red, a 4-track project in the style of Playboi Carti (over 10 million streams across platforms). The 21-year-old artist earned co-signs from the likes of Lil Uzi Vert, Denzel Curry, Lil Yachty, Logic, and Zane Lowe.
A native of Chicago, Tes X catches attention with his prodigious melodic talent and willingness to experiment. He's earned co-signs from Trippie Redd and Lil Keed, and recently appeared on "It's Alright," a highlight from DJ Scheme's recent album FAMILY.
Watch "It's Time To Rock": https://www.youtube.com/watch?v=4U3WVB1v3ls
Buy/Stream "It's Time To Rock": https://tesx.lnk.to/ItsTimeToRock
© 2021, Seth "Digital Crates" Barmash. All rights reserved.