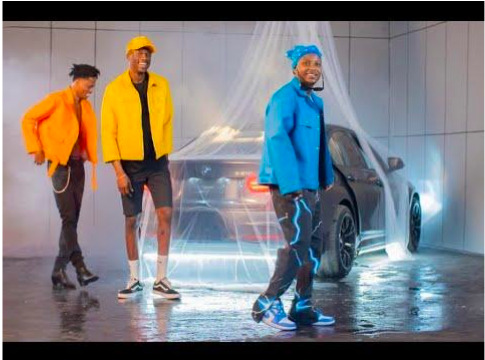 Buzzing VGMA award-winning, singer/songwriter Kelvyn Boy releases his latest project for single "Visa" featuring Ghanian hitmakers Joey B ("LA Hustle," "Cold," "Akobam") & Kwesi Arthur ("Baajo," "Sore," "Door"). Last Fall, Kelvyn Boy crossed a major milestone in his career, releasing his debut album Blackstar receiving global praises and recognition. Riding the success of his album, Kelvyn Boy is due to release the deluxe version of Blackstar laced with many surprise features, kicking off with a remix release of "Visa."
"Visa" visuals drip of swag, culture, and a taste of the high life while serving feel-good vibes in this splashy yet sensuous video. Kelvyn Boy showcases his notorious versatility, blending afrobeat and r&b with a reggae flare paired with his uncommon tone and romanticized lyrics – creating yet another gem. Collaborating with Joey B and Kwesi Arthur on this project only took this noteworthy single to the next level, as the trio trade alluring lyrics on love and lust over rhythmic drums and perfectly synchronized hooks. The production has Kelvyn Boy's presence written all over it down to the characteristic unique style choices, an array of beautiful women, and surprise musicality giving his audience a sensory overload. While amid a never-ending pandemic "Visa" is proof that music can take you anywhere you want to go.
Kelvyn Boy aims to entertain his listeners as he takes us on a ride through his musical creativity and painting a picture of how he views the world, in an effortless manner. He is the hub of all genres which is evident in his upcoming "Blackstar" deluxe album where he amplifies some of the fan's favorite singles. Although "Blackstar" is an international success with xx downloads, Kelvyn Boy was not content to stop there and has a vision on how he can elevate the album, proving his dedication to always strive for new artistic heights. With momentous productions from Anel Worldwide, Kel P, Liquid Beatz, Samsney, Ugly Beatz, Wilobeatz, Myx Quest, and praiseworthy features from Kojo Funds, Crayon, Kofi Mole, OV, SuzzWay, Samini, Ambuley, Rocky Dawuni, Efya, Mugeez, Darkovibes and Haidara, Kelvyn Boy makes a strong statement that deeply displays his evolution in artistry.
"This project has been one in the making. It embodies everything I represent, for my country, for my culture, and for my people. Black Star means pride to me, I captured the heart of Ghana and poured it into The Black Star Album." – Kelvyn Boy
Follow Kelvyn Boy
IG: @Kelvynboymusic
Twitter: @Kelvynboymusic
© 2021, Seth "Digital Crates" Barmash. All rights reserved.