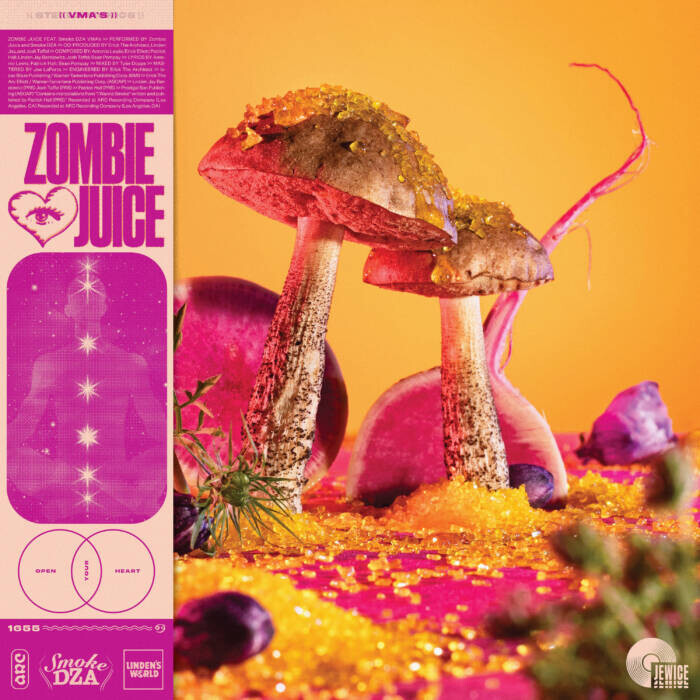 Zombie 
Juice is famous for his role in high-profile Brooklyn crews Flatbush Zombies and Beast Coast, but the rapper is equally capable of standing strong on his own. Indulging in one of his favorite pastimes as he continues his spiritual journey, Zombie 
Juice shares "VMAs," his new video single. "VMAs" brings an ethereal mix of airy choirs and arpeggiating flutes, the track's producers Erick The Architect, Linden Jay, and Josh Taffel creating an inviting bed on which Juice lays his gems of stoner wisdom: "The government takes our weed and you think that's lit?/Like GMOs in the food, they're trying to make us sick." The track is blessed with an appearance from Juice's fellow cannabis enthusiast Smoke DZA, who turns in a jam-packed verse of his own.
"Talking Terps and The Smokers Club presidents link up and get ZOMBIE high for the new record 'VMA's,'" says Zombie 
Juice. "MTV has nothing to do with it. There's no awards being giving out, but we deserve our flowers for our years of contributions in the cannabis and music industries."
Directed by WHIPALO, the video gets its power from Juice's unique presence, the camera focusing on his animated facial expressions as he spits his verse and softly sings the hook. "VMAs" paints a pleasing picture of Juice's life–the video starts with Juice and Smoke in a dark red room, as Zombie 
Juice roasts a blunt while braiding his hair. As the video progresses, both emcees take a limo to the Juice's home neighborhood and are greeted by a colorful crew of well-wishers. Featuring the first ever video appearance by Talking Terps mascot Terp Crawford, "VMAs" is Juice's latest new song in a recent hot streak, following  "Alto"ft. Devin The Dude & Rae Khalil, praised by Stereogum, Consequence, and more, and "Jackin' For Beats," a freestyle over multiple classic instrumentals (rejuvenated by Juice's fellow Zombie Erick The Architect).
One-third of the Billboard Top Ten-charting collective Flatbush Zombies, Zombie 
Juice is one of the most respected emcees in his home city, celebrated for his twisty flows and incisive lyrics. Since the trio formed in 2010, they've made waves with albums like 2016's 3001: A Laced Odyssey and 2019'sVacation In Hell. Though the group is currently on hiatus while the members pursue their solo projects, they performed a Tiny Desk (At Home) concert for NPR in last August. On his upcoming solo project, Zombie 
Juice will delve deep within himself, reckoning with personal demons and defining himself as a full-fledged solo artist.
In addition to music, Zombie 
Juice is the CEO of Talking Terps, a brand that specializes in streetwear and herbs. Talking Terps also sells figurines of Terp Crawford, which always sell out quickly and are worth up to $1000 on the resale market. Terp Crawford recently graced the cover of High Times magazine.
Stay tuned for much more music and announcements from the emcee in the near future. Juice and his fellow Flatbush Zombies will headline a concert at Red Rocks Amphitheater in Morrison, Colorado on October 30th.
Watch "VMAs" ft. Smoke DZA: https://youtu.be/JA-AQ09LIwE
Buy/Stream "VMAs" ft. Smoke DZA: https://orcd.co/vmas
© 2021, Seth Barmash. All rights reserved.