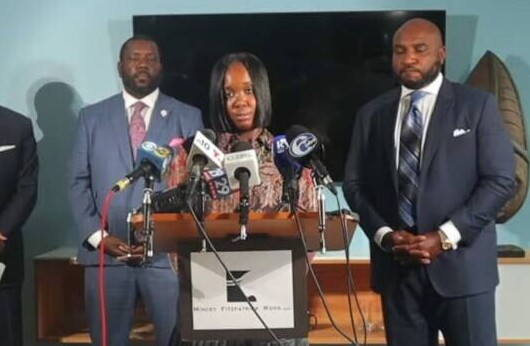 Last year during a Black Lives Matter demonstration, a Black mother was dragged from her car and severely beaten before the young boy she was carrying was present.  A violent assault on Rickia Young will result in her receiving $2 million, according to NBC News. 
Young unexpectedly drove into a protest on Oct. 27, 2020, during which people demanded justice for Walter Wallace Jr., who had been killed by Philadelphia police while experiencing a mental health crisis. In an attempt to escape, she was violently confronted by officers who assaulted her with batons while breaking her window. 
She was reportedly cuffed and removed from her two-year-old son and teenage nephew, but was not charged with any crime. 
She later posted a Facebook post claiming her toddler was lost and saved by the police after his hearing aids went missing during the incident. 
The Fraternal Order of Police, the nation's largest police union, stated that this child, who had been lost during the violent riots of Philadelphia, wandered around barefoot in an area that was experiencing crimes against humanity. During that particular moment, the only concern of the Philadelphia Police Officer was to protect this child. 
A few hours after being taken into custody by the police, Young was released and reunited with her son and nephew. These officers have been terminated after their excessive use of force led to the crimes. Philadelphia Mayor Jim Kenney also condemned their actions. 
In a statement, Kenney emphasized that this horrific incident should never have happened to anyone and it further strained the relationship between law enforcement and the community. 
As a result of the officers' egregious behavior that evening, a thorough investigation of the incident was conducted, and they were punished and held accountable for their actions. It is my hope that Ms. Young and her family get some measure of closure as a result of the settlement and investigation into the officers' actions."   
The settlement is not satisfactory to Young, according to WHYY. According to her, the officers who were involved should be criminally prosecuted for how they handled her and her family members. Additionally, she is seeking compensation from the police union, which she assumes will take responsibility for posting the photo with her son as propaganda and a means of painting her as a neglectful mother. 
© 2021, The Millennial General. All rights reserved.