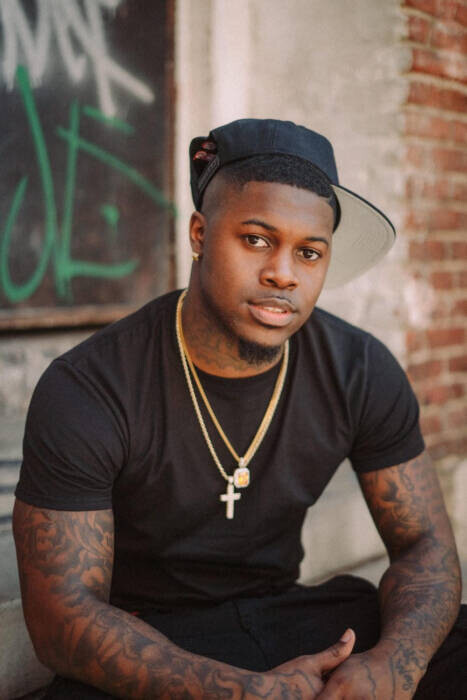 Peaking at #91 on Billboard's Hot 100, "Tampa" was originally released in 2019 but began its swift climb to the top by way of a TikTok trend (124K creates and counting!) in March. Over 42 million streams later, "Tampa" broke into the Top 50 streaming charts on Apple and Spotify (where it currently charts at #47), and crashed the Billboard Hot 100 and the Top 50 of the Rolling Stone Chart. Cico P expertly mixes regional Southern flows with futuristic, SoundCloud era beats. He has a signature style using layered vocals and his music has this very musically dense feeling without being maximalist.
You might be surprised to hear that the man behind the smash hit "Tampa" actually hails from Jacksonville, Texas – a 14,500 person town about two hours outside of Dallas. As for the track's title, "I named the track 'Tampa' because it's the last word of the song," Cico explains. "That's something I was doing, where I would title my songs with the last line I rapped." But Cico wants fans to see where he's really from, which is why in his latest videos, "See Me" and "Boogieee," he took us to his hometown. He even titled his upcoming mixtape Nawfjaxx, a nickname of his small Texas hometown. On Nawfjaxx, Cico P is lyrically speaking to his come-up story, detailing his East Texas upbringing and throwing in a few flexes here and there, of course.
Growing up on the northside of Jacksonville, TX, Cico P hails from a musical family, with an uncle who taught him everything he knows about rapping and a cousin with serious vocal talent. The 23-year-old artist takes pride in his work ethic, a trait he picked up from his mother and honed for years playing competitive sports. He started making music in 2016, but after a series of family tragedies, Cico dug in his heels, motivating himself to succeed in the rap game by any means necessary: "They believed in me, so I gotta believe in myself," says Cico. Now with some viral heat, and the determination to turn his hit song into a long and prosperous career, Cico P is looking to permanently put his tiny hometown on the rap map. "I come from the struggle, and where I'm from never left me," says Cico P, "but I'm ready to break that cycle. It don't rain forever."
© 2021, Seth "Digital Crates" Barmash. All rights reserved.