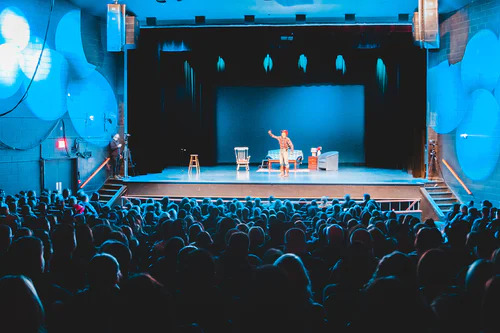 Whether you're in a band playing "dad rock" or looking to put on a theater show, finding the right space for a live performance can be tough. As is putting together everything you need for that performance. 
Before booking a space, you need to create a checklist of everything you'll need to do for the performance and your attendees. We've put together a guide to booking performance spaces and what to consider during the planning process. We've also added a few suggestions of what to look for in performance venues to give you an idea of the type of space you might need. 
Performing live: what you need to know
Putting on a performance in front of a live audience can be thrilling, but only if you prepare the right way. Before you step out on stage, check out these tips to make sure you put on the show of a lifetime.
Book a space to suit the performance
The space you'd use for a rock performance is probably not the same one you'd use for a ballet. So to save yourself some headaches, try to find a place that has the right accommodations for your performance.
This means not just space to perform, but the right amount of seating for the expected audience. You can find venues for just about anything if you look hard enough. A nightclub stage might be enough for some, while an auditorium will better suit others. Consider not just the amenities you need, but also the atmosphere you want.
Get your gear together
Preparation is key for any performance. For a ballet, you'd need everyone's shoes, tights, leggings, insoles, costumes, and any other necessities. Plays and other big productions require lighting and sound equipment, while rock concerts need speakers — lots of speakers.
Knowing what kind of gear you need before you get ready to book a performance space will help you determine if the space will work. You should also account for this in your space requirements. It doesn't have to be Madison Square Garden, but you want enough room to move and enough room to breathe. At the same time, too much space for a small audience can make the atmosphere fall flat.
Figure out the extra costs
Knowing the booking fee for a performance venue is one thing — knowing how much everything else will cost is a separate issue entirely. This can include anything from new outfits and new gear to gas to get to the venue and any other incidentals. School productions, jam sessions with friends, even local theater productions all have budgets.
If you're trying to find the right venue for your budget, then factor in all those extra little things so you know how much the entire performance will cost. It's never a good idea to come up short just before a performance is set to begin. Instead, err on the side of caution and always try to get as close to the actual cost or a little over as possible. Better to have money to spare than to come up short.
Have a backup plan
Our last tip may sound like somewhat of a downer, but even professionals have to deal with the unexpected happening — a performer gets food poisoning, a piece of equipment breaks, or someone important just quits.
For these cases, it can help to think ahead about what you'd do next. After all, you want your performance to go off without a hitch. Having spare equipment, an understudy if the lead gets sick, or an extra guitarist if your lead starts to behave like a diva can save your performance just when you need it. 
What to look for in a performance venue
Whether you're playing for a crowd of 50 or 50,000, having the right space is crucial. Certain types of performances have different needs.
For instance, outdoor venues like Red Rocks Park and Amphitheatre in Colorado are huge and have great acoustics. The amphitheater is well-equipped for almost any kind of performance. But you'll need to factor in the possibility of inclement weather if you plan to perform in an outdoor venue.
If you need lots of seating for a theatrical performance or a sit-down concert, venues that have floor or bleacher seating are excellent choices. But if you want an intimate space, you might want to look into nightclubs and other smaller venues. Dance recitals, plays, and other performances will need a larger stage, plus a backstage area for hair, makeup, and costume changes.
Branch out and be inquisitive
Depending on the performance, you may not need to book the New York City Opera House. You may be fine with a makeshift stage at a coffee shop or a community theater that lets people put on amateur productions. The key to finding good performance spaces is to branch out and ask questions.
Here are a few tips for your search:
Visit listing sites. You'll find a variety of unconventional performance venues that may suit your needs better than an auditorium.
Talk to friends and business owners, school representatives, and whoever else you know with a suitable space.
Be flexible. You may find that what you think you need and what you actually need are two different things.
Finding the perfect performance venue: wrapping up
Hopefully, with this post, we've given you loads of information for the next time you or someone you know is preparing to put on a performance. There are more options for performance spaces than you can possibly sift through alone, but with the right preparation and an open mind, you'll find just the space you need to put on a killer show.
© 2021, Seth Barmash. All rights reserved.