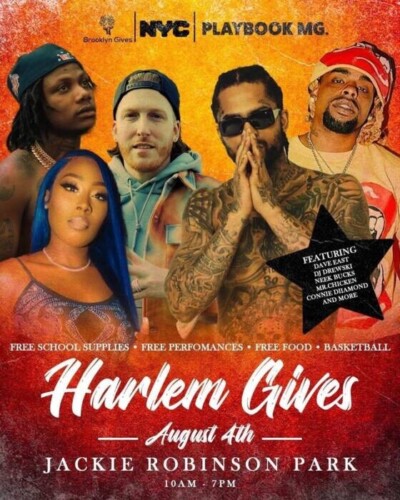 Prominent publicist and founder of Brooklyn Gives, Vianca Bentley, has announced a collaboration with pro-baller Jessie Sapp and rapper/actor Dave East to develop Harlem Gives. This one-of-a-kind giveaway will be taking place on August 4th at Jackie Robinson Park in the heart of Harlem, New York.
This charity event is expected to provide assistance to over 200k residents within the borough through a variety of festivities throughout the day. As a 501C3 non-profit organization, Brooklyn Gives has proved to be the strong adhesive within the community, bringing people together since 2017.
The upcoming event will highlight live performances from up and coming music artists, a high school basketball game coached by NBA trainer Chris Brickley, and a celebrity basketball game that will feature many of NYC's hottest celebrity influencers from media, music, fashion, and television.
Harlem Gives is noted to partner with NYC City Council representatives to present proclamations to NYC personalities that have provided community service to the borough of Manhattan. The proclamation will highlight individuals who have taken the initiative to help serve young men and women in Harlem.
Media invited to the event for Harlem Gives include Pix 11 News, Hot 97, Spectrum News NY1, and ROKU TVA. Be sure to attend this event for an amazing cause in which has unified the community and will continue to do so for years to come! August 4th at the Jackie Robinson Park in Harlem, New York!
© 2022, Julz Mancini. All rights reserved.