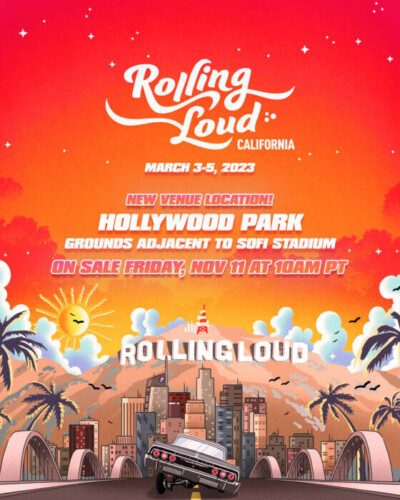 Packed with thrilling performances and unforgettable moments across its global array of events, Rolling Loud is rap music's biggest stage. Rolling Loud returns to the West Coast with Rolling Loud California on March 3-5, 2023. Presale tickets for the upcoming festival are available starting Friday, November 11th at 10am PT at https://www.rollingloud.com/cali2023.
Rolling Loud California 2023 is the first Rolling Loud in Los Angeles since 2019, and is the first-ever music festival at the 300-acre Hollywood Park, which will be hosted on the grounds adjacent to SoFi Stadium in Inglewood, CA. Fans can register HERE to be the first to receive updates about Cali 2023, and can purchase Inglewood-themed Rolling Loud merch at the Rolling Loud shop. Festival lineup and general ticket information to be announced soon.
"Rolling Loud is deeply honored to be the first-ever music festival to take place at the incredible Hollywood Park," said Rolling Loud co-Founders and co-CEOs Matt Zingler & Tariq Cherif. "We're pumped to return to L.A. and make our debut in Inglewood, such an important neighborhood in rap history. Rolling Loud California 2023 will be an event worthy of its historic location, celebrating the undeniable influence of the West Coast on hip-hop and featuring some of the hottest rappers in the game. Stay tuned for our biggest and best California festival yet!"
Following up 2021's Rolling Loud California in San Bernardino, Rolling Loud California 2023 makes a triumphant return to South Central Los Angeles. One of rap music's most historic neighborhoods, South Central L.A. helped define the sound of the genre, and developed an untold number of rap icons. Inglewood itself played a major role in hip-hop history, earning shout outs from Dr. Dre on "California Love" and "The Next Episode," producing West Coast legends like Mack 10 and Shade Sheist, and contemporary stars like Omarion, D Smoke, SiR, and many others. Rolling Loud California aims to celebrate the rich history of West Coast hip-hop–paying tribute to its icons and highlighting its current and up-and-coming stars–while bringing some of the genre's biggest names from all regions to shut it down at Hollywood Park.
2022 was a year of international expansion for the world's biggest festival brand, bringing the the inaugural Rolling Loud Toronto with headliners Future, WizKid, and Dave, and hosted its first European festival in July, bringing headliners J. Cole, A$AP Rocky, and Future to the beaches of Portimão with Rolling Loud Portugal. The two international festivals, plus the Woo Hah x Rolling Loud Fest partnership in The Netherlands, combined with the flagship Rolling Loud Miami, one of the most exciting events of the year, featuring headlining performances from Kendrick Lamar, Kid Cudi, and Future, and the third annual Rolling Loud New York to crown a dominant year for Rolling Loud. The festival recently launched its presale for next July's Rolling Loud Portugal 2023, and plans to expand even further with Rolling Loud Thailand 2023, its first festival in Asia.
Led by its founders Matt Zingler and Tariq Cherif, Rolling Loud is on a mission to lead the vanguard of live music experiences in hip-hop and beyond. Stay tuned for many more announcements.
Register here to receive early notice about Rolling Loud California 2023 tickets: https://www.rollingloud.com/cali2023
© 2022, Seth "Digital Crates" Barmash. All rights reserved.