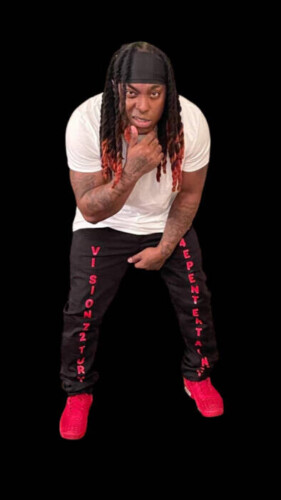 Javon Michael Everett, better known as Visionz2turnt, has come out with his latest single "Cappa" that dropped on May 28th. The artist released this uptempo song right before the summer. Javon is originally from Washington DC, a retired army professional and a single father of 5 beautiful and amazing kids.
Javon also is the owner of his record label called 4 Ever Paid Entertainment that offers help to artists who want to take their career to the next level while maintaining their studies at the same time. He also sells merchandise that caters to audiences of all ages and for all occasions. He also does acting, producing and physical fitness.
With music as his passion and something that can set his mood right at all times, he started his music journey with his own label in 2020 and finally got it off the ground by the end of 2021. He managed to take the time and patience out of his bachelor's degree to put it into his musical career and it has started paying off.
The '2turnt' in his stage name signifies that even on sad songs or love songs, the audience is going to catch a vibe, because Javon knows his craft so well. With every intro to his songs, he says "V 2 T" and then growls. That's a mark he uses to engage the audience that he's about to rap/make noise on a track and that they should keep their attention focused.
Visionz2turnt got into music way back in the 2nd grade and now he stands in a good place for an independent artist with a collective of tides to the music industry. He believes that it has been rough but well worth it. In terms of personal growth, he believes he has perfected his craft and learned to move more strategically and face the fact that not all people will like the songs you make.
As far as future plans go, Visionz2turnt wishes to collaborate with bigger artists, keep striving for greatness and just wait to see what else he can bring out of his bag of tricks. His short-term goals are to take good care of his kids and make sure they are doing good in school. He also wants to continue to get his brand off the ground. He wants to increase his engagement with more interviews and shows.
Long term goals, for him, would best be to finish his bachelor's degree in business administration concentration marketing. He also plans to branch out to different companies for more endorsements and help increase brand awareness for not only himself but others on the rise.
Stay Tuned with Javon on socials:
https://www.facebook.com/Visionz2turnt
https://www.instagram.com/Visionz2turnt
https://www.twitter.com/visionz2turnt
https://www.youtube.com/c/V2TMusic
© 2022, Tedfuel. All rights reserved.