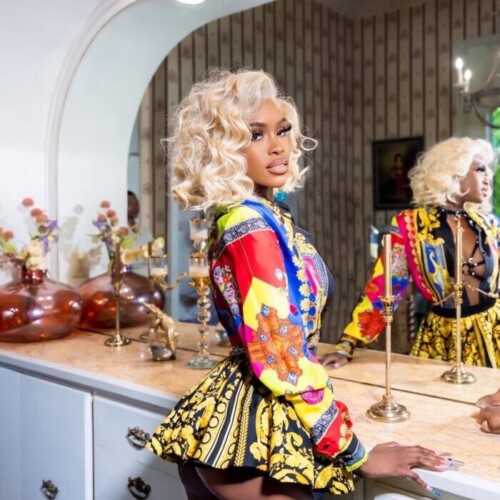 It is such a good time to be a female rapper. As the female emcees have been holding it down from Megan The Stallion to Cardi B, and Nicki Minjaj toThe City Girls, the music industry has entered a different era in music. This leaves room for the next big star to be a female rapper like Atlanta based artist Salma Slims. With the release of her new "Oh He Wanna" visual, it is clear Slims is determined to become a household name, in the name of music. Collaborating with music hotshots such as 24 HRS, MadeinTYO, and Chanel West Coast, she has the right people backing her to make sure she makes it to the top.
In the "On He Wanna" music video, Slims showcases her beauty and raw talent, providing a fresh new bop for the music industry. Making it known that she is lyrically gifted, she spits some of her illest bars, while look like the bad b***h she is. Accompanied by a gal pal of hers, the two start the video riding in an classic Cadillac car, styling and profiling. Dressed in a black ensemble you will see Slims, talking that talk spitting out memorable punchline after punchline before she reminds you of why she is the girl every guy wants.
As she continues to be a fashion trendsetter, fans get a chance to see what it looks like and feels like to be the Salma Slims. One scene that is worth mentioning is the candid pillow fight that breaks out between Slims and a few of her girl friends. In this scene, you will notice that the floors are dripped out in GUCCI, with accents of Versace everywhere . These elements of the video are a direct statement to her glamorous lifestyle. Turning the function to a full-fledged party, you get a chance to see how talented Slims is as a creative and rising star.
As she does a great job of creating a dope visual to accompany an already lit song, she reminds viewers that you can keep it classy, sexy, and sassy while serving up some vibes for the summer. One thing about Salma Slims is that she always comes correct in a sonically and visually pleasing manner. Press play below to stream her new "Oh He Wanna" music video.
https://www.youtube.com/watch?v=kw90hup27Kw
© 2022, Tedfuel. All rights reserved.