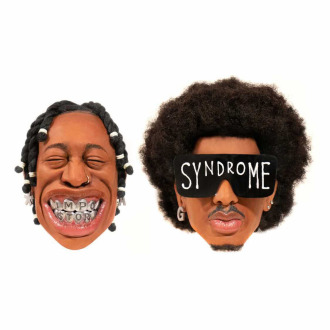 Super-duo Jody Fontaine and Baby Boy of the Bay Area's buzziest rising collective AG Club unleash their anxiously awaited new album, Impostor Syndrome. Get the album HERE via Epic Records and purchase limited-edition box sets HERE.  Additionally, to celebrate the record's arrival, AG Club premiere the music video for "Don't Ask, Don't Tell" [feat. Glen the Saiyan, Sam Truth, & redveil]. Watch it HERE.
Executive produced by Vic Wainstein (Frank Ocean, Tyler The Creator, Mac Miller), Impostor Syndrome is notably the group's first studio album to be released by a major label. The album's cover art was designed by acclaimed sculpture and visual artist Johan Drox. The 13 track album includes previously shared singles "Mr. Put It On," "TRU RELIGION," and "Kevin," as well as their latest, "Don't Ask, Don't Tell."
For the "Don't Ask, Don't Tell" video, the group self-directed this surreal action-packed visual. The clip encompasses a carjacking, cash-loaded briefcase, hostage situation, and insane escape sequence intercut with equally intense performance footage. The high-octane track hinges on a snappy groove and a jazz-y piano breakdown punctuated by fast-paced lines such as, "Might look like I'm dreaming, but I'm on course and I'm speeding and I'm gone."
In typical AG Club fashion, Impostor Syndrome was developed primarily in-house and immerses fans in the Club's recognizable energy and sample-driven beats. The album introduces a more eclectic range of production as the group experiments with more unconventional sounds and styles that further define the group's unique sonic identity. Some familiar names can be found on the project including Sam Truth and Red Veil, as well some fresh new features from Na-Kel Smith and a few other surprise additions. The album includes additional production from DJ Dahi, Gabriel Garzon Montano, and Junior Varsity.
Impostor Syndrome dives deep into the inner psyche of AG Club as they battle with their own idea of self-identity and authenticity, unfolding as a sonic and emotional rollercoaster. While the basis of their most recent project Fuck Your Expectations Parts 1 & 2 revolved around deconstructing the many expectations bestowed upon them and their rapid success, Impostor Syndrome uses each track to readdress these expectations. They share vulnerable, yet intense stories, ruminating on societal perceptions of what fame, success and navigating the industry should look like.
Tonight, they return to the road with Denzel Curry for a string of dates through early October. Additionally, they just revealed headline dates for later this fall in New York, Los Angeles, and Chicago. They previously toured Europe for the first time this summer and toured with Denzel and Pusha T earlier this year. Find the full routing below and visit www.agcncsf.com to purchase tickets.
As they continue to evolve, AG Club will never forget where they came from. Instead, they continue to shine a bright light on the East Bay. This week, they supported the community with a series of events and activations, including a private dinner with 20 lucky fans and a bike ride and skate session in Brentwood Skate Park. Last night, the guys descended upon The New Parish for the Impostor Syndrome Live Experience. For the first time, they performed the album live in its entirety.
AG Club represent a new era of West Coast hip-hop as they pave another lane for the culture with Impostor Syndrome now.
Follow AG Club:
Instagram | Youtube | Tiktok | Twitter | Official Website
© 2022, Seth Barmash. All rights reserved.