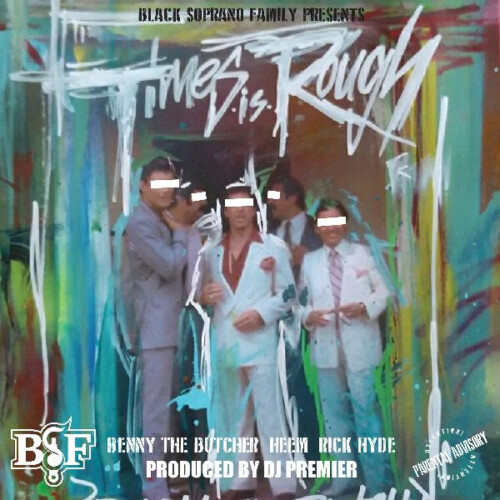 Benny The Butcher and his Black Soprano Family (BSF) have announced their biggest compilation project to date, Long Live DJ Shay, which will be released on 9-9-22.  Along with the album announcement, they also released a new single and video for "Times Is Rough," which is produced by the legendary DJ Premier. "Times Is Rough" is now available!
Long Live DJ Shay, is a celebration of the legacy and impact of DJ Shay (RIP), not only for BSF and Griselda, but his lasting impact on the culture.  Long Live DJ Shay is Benny's Roc La Familia project, a warning shot for the streets that not only showcases himself and his label but more importantly his burgeoning roster of talent; and those closely associated with him.  Long Live DJ Shay features appearances and production from Benny and his BSF brethren along with Westside Gunn, Conway The Machine, Boldy James, Stove God Cooks, Krayzie Bone, Armani Caesar, DJ Premier, The Alchemist & Jansport J.
"Long Live DJ Shay!  We put so much into this knowing he is watching down on us, and I know this is gonna wake everyone up," Benny The Butcher confidently asserts.  "B$F is the biggest.  I promise you we them ones.  The album is top-notch; from production to the rhymes and it's entirely mixed by the legendary Young Guru, so I know it's going to pop out ya speakers the right way. "
Benny's Black Soprano Family (consisting of Rick Hyde, Heem, Loveboat Luciano, Young World, Flexxbabyy, Cristina Mackey and its newest signees Fuego Base and ELCamino) imprint has experienced similar success, as projects from Heem (Long Story Short), Rick Hyde (Plates 2 & Stima), and their most recent collective effort, Trust The Sopranos, all debuted in the top 10 on DSP's, and resulted in a 300% percent growth for all BSF artists on DSP's.
Long Live DJ Shay will be released on 9-9-22 via BSF/MNRK Music Group.
You can now purchase, add and favorite "Times Is Rough" at your preferred DSP:https://lnk.to/TimesIsRoughBSF
© 2022, Seth Barmash. All rights reserved.