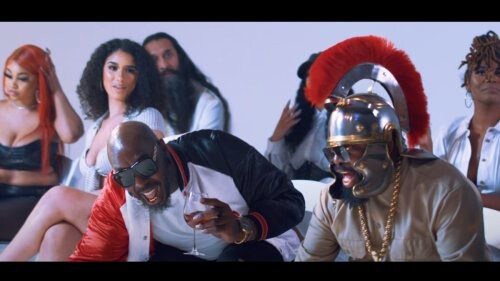 Outkast's Big Boi and Sleepy Brown of Organized Noize have enjoyed a working relationship and friendship that's spanned over three decades. Their collaborative effort on Big Sleepover is equally as celebratory as it is genuine. The album features a slew of successful singles, including "Intentions" (feat. CeeLo Green), "Lower Case [no cap]" (feat. Killer Mike), "The Big Sleep Is Over" (feat. Kay-I), and most recently, "Animalz", which the duo performed on The Tonight Show Starring Jimmy Fallon. The 14-track album is a masterclass in evolution and shows Big & Sleepy ambitiously diving into a wide array of styles and influences with ease. On tracks like "In U", Big & Sleepy produce a sound that is uniquely their own––blending aspects of funk, soul, and R&B for the smooth track. The album is not just a musical get-together for Big & Sleepy, but also for their long list of frequent collaborators. Recorded at the legendary Stankonia Studios, the album features contributions from Killer Mike, Scotty ATL, Big Rube, and production from Organized Noize––making Big Sleepover a family affair in every sense of the word. Big Boi & Sleepy Brown have had one of the most legendary runs in music, and now with Big Sleepover, longtime fans finally get a glimpse of what the future has in store.
Big Boi just released a new video for "Do Ya Best" featuring Sleepy Brown and Scotty ATL from his most recent album, Big Sleepover. The visuals show Big, Sleepy, & Scotty as the centerpiece of a South Beach-style party and court-side at a high-end fashion show featuring numerous beautiful models—Big Boi spits his laid-back verse sporting a Roman-style headpiece, while Sleepy lays down his smooth hook sitting on a beach surrounded by luxurious cars and the beaming sun. "Do Ya Best" (feat. Scotty ATL) was a crowd favorite from Big & Sleepy's 2021 critically-acclaimed collaborative album Big Sleepover, and this visual only adds to the swagger and finesse of the funky track.
© 2022, Seth "Digital Crates" Barmash. All rights reserved.