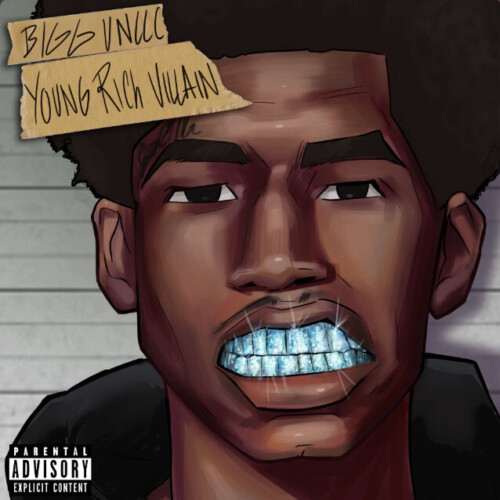 Rising Memphis rapper Bigg Unccc is ending the week on a high note with the release of his debut project Young Rich Villain via Paper Route Empire! Spanning 11 unassisted tracks, the project makes a statement and proves that he can hold his own and needs no features. Don't let his seemingly innocent, diamond-studded smile fool you – Unccc can get sinister. Throughout the project, he wields drawly triplet flows as he rhymes about carrying out his villainous plans to get the bag by any means necessary. 
To provide a peek into the project's sound, Unccc recently shared videos for "Free Roccout," a tribute to his incarcerated best friend, and the video game warzone-inspired "Call of Duty." Catch him calmly snapping on vivid production by Bandplay and more as he takes us on a journey with his unmistakable flow. Some of my faves on the tape are "Gun Don't Work," "Skeleton," and the ominous "Try Again" – it gets spooky as he takes us to the graveyard in this new video. From appearances on the 2021 PAPER ROUTE iLLUMINATi compilation tape and paying tribute to his mentor Dolph earlier this year with his single "Letter to Flippa to releasing his own project, Unccc only plans to rise from here. 
© 2022, Seth "Digital Crates" Barmash. All rights reserved.