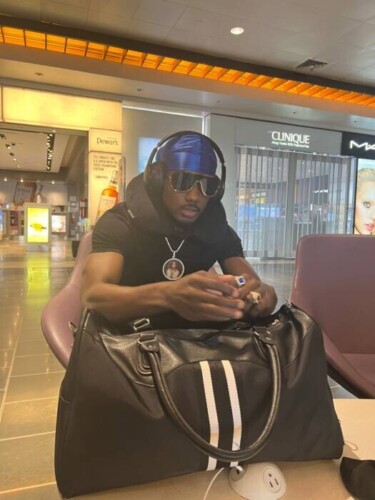 HipHopSince1987 recently sat down with BobbyJayTV for an exclusive interview. He is dedicated to opening doors in the entertainment industry, by helping music artists, from all over the world, gain exposure. During our conversation he discussed growing up in Liberia, starting his own company MediaCultureNews, going on Tour with Davido, upcoming endeavors and much more.
The blogger, entrepreneur, and influencer is dedicated to opening doors in the entertainment industry, by helping music artists, from all over the world, gain exposure.
What is your name and what city do you rep?
My name is Bob Blessing Jacobs, popularly Known as BobbyJayTV. I'm originally from Liberia, West Africa but I grew up in Boston Massachusetts. Boston made me who I am today so shoutout to Boston!
You had the opportunity to tour with big names celebrities such as Davido, and Armon & Trey. Could you describe how that moment felt like?
It's always a blessing to be acknowledged for doing what you love. this feeling so unreal… All blessings due to the one above. I can honestly say when I got the opportunity my life changed instantly just by being around Davido and Armon & Trey. I'm forever Grateful that I got the opportunity to traveled, make many connections and learn so much while being on tour with them. The opportunity came unexpectedly but if you Stay ready you will never have to get ready.
Do you have any exciting plans for this year in terms of music? What can we expect to hear next from BobbyJayTV ?
Good question, I'm thinking about starting my own independent record label for new hard working artists and bands. I'm not not only looking for rappers but all creative minds.
What is one piece of practical advice you would give someone looking to start their own business ?
Never play it safe, take risks, invest in yourself, eliminate distractions, surround yourself with a team of POSITIVE like minded individuals, and most importantly practice self discipline. You won't always be excited and motivated to get out there and make things happen.Count on discipline not motivation. Never give up. If you fail, go back to the drawing table and see why you failed, rise up and do better. If you need to change strategy, do. But remember "never give up"
What do you find challenging about being an entrepreneur?
You can plan for loses but not failure. Social Media got everybody thinking Entrepreneurship is easy You have to have the passion, Creativity and Tenacity for it to work. You will be broke, stressed, and ready to quit at times. Don't let social media fool you. Keep pushing cause one day it will pay off. Never underestimate the power of networking. The most challenging for me was learning to accept losses. Being an entrepreneur comes with so many loses.
Where do you see yourself in the next 5 years?
I see myself in the next five years owning many businesses. I see myself retiring my parents I speak these things into existence daily.
Alright, so before we go, how can our readers connect with you to learn more and show support?
Instagram BobbyJayTV
Twitter: BobbyJayTV
© 2022, Tedfuel. All rights reserved.