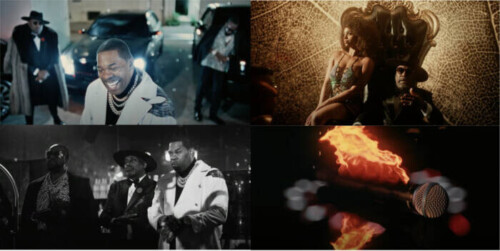 Busta Rhymes returns with a new single and music video for "Slap" featuring Buffalo recording-artist Conway the Machine and one of the most influential and skilled MCs in hip hop Big Daddy Kane via The Conglomerate Entertainment, Inc./EMPIRE.

In a dramatic entrance, Rhymes, Conway the Machine, and Big Daddy Kane step out of midnight black Maybach's with an introduction by Funkmaster Flex. Directed by Drefilms and Rhymes, the visuals capture their New York City takeover as they rap over a classic cypher instrumental on loop. Rhymes opens "Slap" with a shout out paying respects to Biz Markie and PnB Rock ahead of his show stopping verse as he ends with, "Somebody polish my crown and put it back on my m*therf*kcin' [head]." Conway the Machine acknowledges his impactful influence on music as he raps, "Hall of Fame and we just analyzing my old stats; Gliding on those tracks, my catalog in its entirety all slap." Big Daddy Kane also hammers home his legendary status as he jumps in with, "In this story no one goes after me, I ain't the track so you hear last from me, don't ask me to pass the mic that's blasphemy." "Slap" sets as a reminder to the current generation of rappers — the trio are untouchable and will forever be respected as hip hop legends. 

Most recently, Rhymes toured alongside Wu-Tang Clan & Nas for their North American 'NY State Of Mind Tour' making stops at and guest starred on Dave Chappelle's sold out Radio City Hall Music Hall tour. This past September, Rhymes was honored at the BMI Hip-Hop Awards receiving the Icon Award signifying his unique and unmatched influence on generations. Rhymes released his latest album Extinction Level Event 2: The Wrath of God  on October 30, 2020 achieving his 7th Top 10 record on Billboard's 200 list which also peaked at #4 on US Top R&B/Hip-Hop Albums. A star-studded follow up to his seminal 1998 three-time Grammy nominated, RIAA Certified Platinum album E.L.E. (Extinction Level Event): The Final World Front.
© 2022, Seth "Digital Crates" Barmash. All rights reserved.