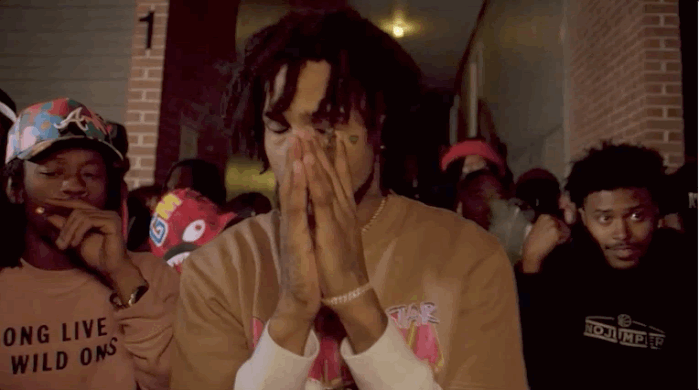 Armed with a golden voice and a determination to succeed, Chino Cappin emerged from rough circumstances to become one of the most promising artists in the Georgia hip-hop scene. In his new video for "Permanently Scarred," Chino reveals that he didn't escape from the trenches unscathed. Emoting over bluesy guitars with a melodic rasp, Chino resolves to work hard through his trauma to support his family: "I done seen some sh*t I can't say, left me traumatized," sings Chino. Directed by BPace, the new video portrays the duality of Chino's high-flying lifestyle and the pain that he can't help but feel even in his most triumphant moments.
"Permanently Scarred" is the title track from Chino's new project Permanently Scarred, which dropped last week. Armed with his signature raspy tenor and agile delivery, Chino drifts seamlessly between colorful melodic runs and hard-biting triplet flows, detailing romantic situations with aplomb and flexing whenever neccessary. The new project is home to buzzing singles like "Last Time," his yearning collaboration with fellow ATL native, PopLord, nearing 1.5 million views on YouTube, and "Ed Edd Eddy," a fiery collaboration with 21 Lil Harold that earned a shout out from 21 Savage himself. With an additional appearance from kindred spirit Jacquees, plus vibrant production from Jacquees' frequent collaborator Nash B, Permanently Scarred is available everywhere now via Alamo Records.
2021 was a busy year for Chino Cappin, as he continued his rise out of his small hometown of Fort Valley, GA on his way to the top of the ATL hip-hop scene. The artist shared Ladders, his first project released by Alamo, characterized by his relatable lyricism and infectious vocal lines which drip with the bravado of a man confident in his abilities. In June, Chino shared F*CC It BaCC To The BasiCs, a mixtape that finds Chino rhyming over instrumentals from all eras, focusing on R&B and rap from the early '00s, including samples of songs by Moneybagg Yo, Usher, and more.
Permanently Scarred marks a turning point in Chino's rise, which is only gaining speed from here. With Chino SZN in full effect, stay tuned much more from the burgeoning rap star in 2022.
Watch "Permanently Scarred": https://www.youtube.com/watch?v=bZSsbKMFRzk
Stream Permanently Scarred: https://lnk.to/ChinoCappin-PermanentlyScarred
© 2022, Seth "Digital Crates" Barmash. All rights reserved.